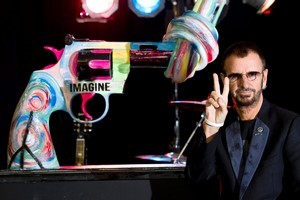 Asked to gauge Ringo Starr's musical abilities, John Lennon joked: "He's not even the best drummer in the Beatles." But could the drummer yet prove the finest artist among the prodigiously talented group after unveiling his first public sculpture?
Starr, 71, yesterday unveiled his own artistic tribute to Lennon, on the 31st anniversary of his former colleague's murder. The statue was Starr's own take on the "knotted gun" sculpture which stands outside the United Nations headquarters in New York.
The original bronze work, Non-Violence, with its distinctive twisted gun muzzle, was created by Swedish artist Carl Fredrik Reuterswrd as a memorial tribute to Lennon after he was shot on December 8, 1980, in New York.
Starr said his unique take on the design, commissioned by The Non-Violence Foundation, was intended to spread the message of world peace that Lennon propagated.
The multicoloured statue, featuring the word "imagine" above the trigger, was unveiled at the Gibson Guitars studio in London. It is expected to tour British schools as part of a non-violence campaign next year.
Starr said: "I just did my artwork on my iPad, put it on my computer and transferred it on to paper with the outline of the gun."
The paintwork was actually produced, to Ringo's design, by Charlie Anderson, an award-winning young artist. "He did a great job."
Starr included the word "imagine" as a tribute to Lennon and has high ambitions for his design. "I think they should be produced bigger and placed on a plinth on Trafalgar Square," he said. "Other musicians should make one too. They should spread it out."
Would the statue deliver world peace? "I am doing the best I can - how about you?" he said.
While fellow Beatle George Harrison did not do much painting or drawing - though he did once spray a Fender Stratocaster guitar with psychedelic designs - Starr has some way to go if he wishes to match Lennon and Sir Paul McCartney's artistic achievements.
A Liverpool Art Institute student, Lennon drew throughout his life, working in pen, pencil and Japanese sumi ink. His Bag One portfolio of lithographs is in the permanent collection of the Museum of Modern Art in New York.
McCartney developed a teenage interest in art wandering around Liverpool's Walker Art Gallery with Lennon. He developed a painting style heavily influenced by the Dutch-American abstract expressionist artist Willem de Kooning.
The Walker staged the first British retrospective of McCartney's artwork in 2002, featuring "free association" paintings, natural wood sculpture and photo pieces.
Starr also demonstrated an aptitude for art at school but only swapped drum sticks for paint brushes long after the Beatles' demise. Inspired by the light in his adopted home of Monte Carlo, Starr began painting acrylic on canvas for his own pleasure 20 years ago.
Starr has described his work as "light-hearted and whimsical". Whatever their artistic merit, Starr's paintings have great scarcity value. They are the only works which the autograph-shy star will personally sign.
- INDEPENDENT