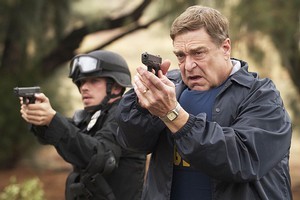 He's said he's retiring from filmmaking so this week could be your last chance to catch a Kevin Smith movie at the cinemas.
Smith, the love-him-or-hate-him cult helmsman of indie flicks like Clerks and Mallrats, has said he's giving up directing after Red State, a film about a group of teens who get terrorised by a group of religious nutters in middle America.
When it comes to Red State, reviews have been middling, with many expressing surprise at the film's high body count. In New Zealand, it's classified as a horror film and has an R18 rating, so you have been warned.
"It's a film that eventually proves horrific in ways unintended," said Boxoffice Magazine reviewer Nick Schager. Perhaps retirement for Smith will be a good thing.
Check out the trailer for Red State:
On a completely different note is Puss in Boots, the Shrek spin-off featuring the sword-weilding kitty voiced by Antonio Banderas, alongside an all star voice cast led by Salma Hayek, Zach Galifianakis and Billy Bob Thornton.
As for the film's plot, it's a fairytale mashup as Puss and his love interest Kitty Softpaws team up with Humpty Dumpty as they go up against Jack and Jill and search of their magical beans.
A Gruffalo probably turns up at some stage too.
Reviews? Don't worry about reviews - this one's for the kids and it's on in 2D, 3D and at Auckland's Imax cinema so there are no excuses not for taking the younglings these holidays.
But if you must, check out Metacritic's rating here.
Check out the trailer for Puss In Boots:
The festive-themed movies are starting to roll out, so here's New Year's Eve, a romantic-comedy with a massive A-list cast that reads like a celebrity-spotting tour guide to the Hollywood Hills.
It's led by Robert De Niro and stars everyone from Jessica Biel, Ashton Kutcher, Sarah Jessica Parker and Halle Berry to Lea Michele, Katherine Heigl, Zac Efron, Michelle Pfeiffer, Carla Gugino, Sara Paxton and Sofía Vergara. And many, many more.
It's basically a bunch of romance-themed short stories leading up to New Year's Eve, and some of them intertwine. It sounds awful and apparently it is, with just a 26 per cent rating on Metacritic.
"It's safe to say no idea was nixed on the set of New Year's Eve for being too cheesy or sentimental; if anything, ideas were nixed for not being sentimental or cheesy enough," said The AV Club's Nathan Rabin.
In other words, don't go.
Check out the trailer for New Year's Eve:
Other films being released this week include Magic To Win, Fastest, Ladies vs Ricky Bahl and El Bulli: Cooking in Progress.
- Herald online