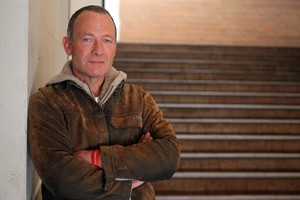 Controversial actor and star of classic 80s TV show Gloss, Simon Prast has gone broke and applied for insolvency.
The 49-year-old actor who has starred in many classic Kiwi programmes is struggling to find work and living off sickness benefit and ACC.
Now, the former Metro 'Auckland Man of the Year' has asked to be considered for a fast-track form of bankruptcy.
Today, Prast, of Greenlane, Auckland, refused to speak about his application, which was lodged this week. He said: "I've no comment to make.''
A spokeswoman for the Insolvency and Trustee Service confirmed that Prast has applied for the No Asset Procedure (NAP), but no decision has been made on whether to "accept or reject that application''.
She explained: "NAP is a process for people who owe less than $40,000. They can apply to us, and if they meet a fairly strict criteria of having no assets and no surplus income can go down the NAP route which lasts for 12 months - whereas bankruptcy is three years.
"Like bankruptcy, at the end of the term the debts get discharged and you still stay on the credit reporting registers for a further four years.''
Prast made his TV debut in 1983 in the New Zealand drama series Mortimer's Patch.
But it was his starring role in Gloss as spoilt rich kid Alistair Redfern that kick-started his career.
In 1992, he starred in the movie The Sinking of the Rainbow Warrior alongside Hollywood stars Sam Neill and Jon Voight.
He also appeared as nurse Paul Churchill on several episodes of Shortland Street in the '90s.
Last year, Prast - also an acclaimed stage director and founder of the Auckland Theatre Company - admitted to using the methamphetamine drug, P.
After initially refusing to answer questions about drug use Prast disclosed his P use to the Herald on Sunday.
He said: "It is something that was becoming an issue but before it became a problem I dealt to it. I dealt with it before it became a problem because, for some people as we have seen, it's highly addictive.''
Prast said he began using the drug in 2004 after being made redundant as director of the trouble-plagued Auckland Festival, AK03. The revelations came as he stood for the Auckland SuperCity mayoralty.
During the campaign, he stated: "I'm not a multimillionaire and I don't think this campaign is about throwing money at it either, I think it is really about connecting with the electorate.''
Prast said his experience and leadership would allow him to be an effective mayor but he finished fifth in the field of five listed candidates.
- APNZ