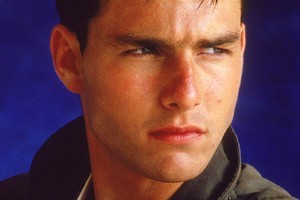 He's feeling the need: Tom Cruise has confirmed he is on board for the forthcoming Top Gun sequel.
Plans for a follow-up to the 1986 blockbuster surfaced in October last year, but Cruise's involvement remained sketchy.
In an interview with MTV News in Dubai while prompting his latest flick, Mission: Impossible - Ghost Protocol, Cruise revealed that he's in talks with Top Gun director Tony Scott and producer Jerry Bruckheimer about the sequel.
He wants to be a part of it - providing they "find a story that [they] all want to do".
"I hope we can figure this out to do it again," he said.
He continued: "I said to Tony, I want to make another movie with him. He and I haven't made a film since Days of Thunder.
"Tony and I and Jerry, we never thought that we would do it again. Then they started to come to us with these ideas and I thought, wow, that would be what we could do now.
"We all want to make a film that is in the same kind of tone as the other one and shoot it in the same way as we shot Top Gun."
It had been rumoured that Top Gun 2 would focus on a new generation of fighter pilots - mentored by Cruise's character Maverick.
Asked what role he'd play in the sequel, Cruise, 49, said: "I don't know - we're working on it."
Bruckheimer also discussed the sequel last year, saying that "the aviation community has completely changed since we made the movie a long time ago. So we have to find a way in and how to incorporate the Maverick character into it".
It was reported back in September that the original Top Gun is being prepped for a 3D cinema re-release in 2012.
Conversion of the movie is being conducted by Legend3D, according to The Hollywood Reporter.
Legend3D CEO Rob Hummel said: "As I understand it, they are planning to release it in 3D in early 2012, though I know they want to get Tony Scott's approval before they go forward.
"I think Top Gun lends itself to 3D due to the aerial flight. You can have fun with 3D by bringing things off the screen if they are not attached to the edge of the screen."
He added: "We think there is great potential for catalogue titles in 3D, but studios have had trouble justifying the expense."
What say you, readers? Is a Top Gun sequel a good idea?
- Blogger Bites Back