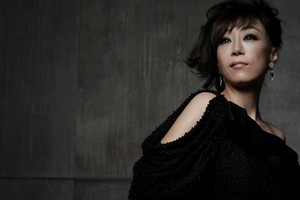 For two hours on Wednesday evening, Auckland Town Hall became Koreatown as the city's Korean community flocked to soprano Sumi Jo's only New Zealand appearance.
The event may have been advertised as a Grand Concert, yet musically, it was very much a lollipop scramble, vocally and instrumentally.
Nevertheless, only the stone-hearted could be immune to the old-fashioned charm dealt out by the Korean soprano, clad in a new and ever more glamorous gown for each bracket.
Tom Woods and the Auckland Philharmonia Orchestra set things a-sparkle with a zesty Die Fledermaus Overture, the first of a number of stylish orchestral items.
We met the lady herself in Gounod's waltz song from his Romeo and Juliet and it was a silvery delight. She trilled and rouladed her way around Europe and, after a visit to Italy courtesy of Verdi's Caro Nome, we were returned to France for Olympia's Doll song from Offenbach's Tales of Hoffmann.
This was very much a party turn, with Woods as Dr Coppelius, cranking up the singer when her battery ran flat. By the end, Jo positively basked in her penultimate top E flat until gasp turned to wild applause from the hall.
Not all worked as well. Glitter and Be Gay, from Leonard Bernstein's Candide, in the final feathery dress of the evening, lacked definition and crispness. And, earlier on, Eva Dell'Acqua's 1893 Villanelle had caressed our ears, but at the end of a long cadenza Jo was not quite at the same pitch as the waiting orchestra.
By the final bracket of encores, only a leaden O mio babbino caro was a miscalculation, although Jo regained ground as a dipso diva, slurring her way through Strauss' Mir ist auf einmal eigen zumute, wine glass in hand.
The soprano's homeland was not forgotten in two of the evening's highlights, an exquisitely sung Ari Arirang by Jun-Jun Ahn and the final encore.
Here she brought on a guitarist who played while she coaxed her audience to sing, with touching fervour, the folksong Oh My Love.