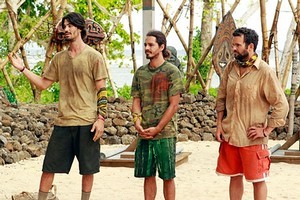 Survivor's latest eliminees Jim Rice and Keith Tollefson have labelled their back-stabbing tribe mate John Cochran as "the worst player ever".
Rice and Tollefson became the first members of Survivor: South Pacific's jury following their Redemption Island duel loss against their Savaii tribe mate Oscar "Ozzy" Lusth.
The pair were victims of Cochrane's shock move at a previous tribal council, when he switched his vote to side with the opposing Upolu tribe, led by Benjamin "Coach" Wade.
Rice, a 35-year-old poker champion from Denver, told nzherald.co.nz that Cochrane chose to make the move because he was "scared" and didn't want to be alone on Redemption Island.
"He might go down as the worst Survivor (player) ever. It just bugs me how bad his strategy was. When somebody's a fan of the game and does something so stupid it just irks me on every level - as a man, as a fan and as a player of the game," he said.
"He was scared. That's all it came down to."
Tollefson, a 26-year-old water treatment technician from Edina, said his tribe put too much faith in Cochrane to make the right decisions.
"His move was basically self preservation and ... to make a name for himself and become a character. There was really no way we could have kept him on our side without him flipping.
"He wanted to make his stamp on Survivor and say, 'I'm going to flip and change the game'."
Rice said there was no thought behind Cochrane's strategy.
"He didn't do one thing redeeming the entire game. I don't have any animosity for him, I feel sorry for the kid on every level. I have no problem with screwing someone over in Survivor, if you've got some kind of strategic advantage.
"But can you think of a way of winning Survivor by stabbing five people in the back? There is no way to do it."
Both contestants admitted they performed poorly in their final duel, which involved balancing large blocks of wood on their arms for extended periods of time.
"I'm a lengthy guy and the problem isn't strength, it's endurance and it had been 25 days up to that point with little food," said Tollefson. "It's a mental problem. It was a difficult challenge."
Rice said he simply stuffed it up.
"That was my worst performance in any duel all season. It was embarrassing."
* Survivor: South Pacific screens on Four every Wednesday night. nzherald.co.nz will interview every contestant as they are eliminated.
- Herald online