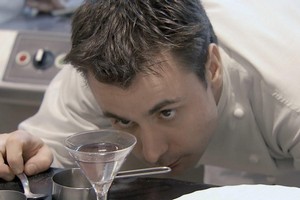 At one point in this minutely attentive study of the fabled restaurant of the title, three of the chefs are at the market and ask the fishmonger for a single fish tongue. At another stand they want five grapes and three green beans: that's all they need for the complicated process of kitchen chemistry they have in mind.
If you're the kind of person who wonders why they don't buy 500g of beans and, you know, eat them (well, all but three) for their dinner, you may see some point in the activity the film documents - and, for that matter, the film itself.
El Bulli, on the Costa Brava north of Barcelona was regarded as the best restaurant in the world in the middle of the last decade. It's a distinction now generally ascribed to Noma in Copenhagen and El Bulli, having closed (it may re-open as a "culinary think-tank") won't reclaim it.
Chef Ferran Adria was a pioneer of so-called "molecular gastronomy" - a process of reconfiguration that results in such dishes as breaded deep-fried tuna fish marrow or liquid olives.
If this lights your fire, Wetzel's fly-on-the-wall documentary of chefs at work in Adria's Barcelona lab and in El Bulli will probably be your idea of heaven.
Needless to say, I never had the El Bulli experience (35 dishes in three hours) but I tried some of the creations of one of his proteges in Auckland a few years back: lamb shank jelly; parmesan foam; wasabi breeze; you get the drift. I wasn't impressed, as I was not by this film. It's strictly for the initiated, the devoted and the curious.
Stars: 3/5
Director: Gereon Wetzel
Running time: 105 mins
Rating: M (offensive language) In Spanish and Catalan with English subtitles
Verdict: See everything; learn nothing
-TimeOut