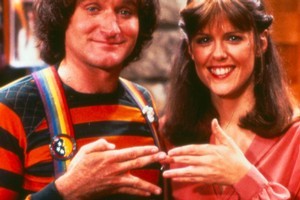 In the middle of a poky hotel room - with spotlights blazing, TV cameras at the ready, and officious publicity types with clipboards buzzing round - sits the mighty Mork from Ork. He looks just the way I remember him from when I was a kid. Like a mischievous school boy, legs together, hands clasped on his lap, and a smile squeezing - fit to burst - out of his face.
Of course, actor and comedian Robin Williams - who is cooped up in this Sydney hotel suite on promo duty for Happy Feet 2 in which he reprises his voice actor roles of hopeless romantic Ramon and evangelical soul brother Lovelace - has been many characters since Mork. There was renegade army disc jockey Adrian Cronauer in Good Morning Vietnam; dad-cum-caretaker in dude-looks-like-an-old-lady comedy Mrs Doubtfire; and his voicing of the Genie in Aladdin in 1992 pioneered the way for stars to add their voices to animated characters.
Put it this way, if it wasn't for Williams, Antonio Banderas might not be the smooth-talking, sword-wielding puss he is today.
But it is Mork, the alien who came to earth from Ork in an egg-shaped space ship, that I associate Williams with most. Along with Michael Knight from Knight Rider he was a childhood hero of mine. Not that I was ever going to wear those ridiculous stripey jumpers and ski vests that Mork wore. Or go around doing his nah-noo nah-noo greeting and "hand shake" (similar to Spock's Vulcan salute in Star Trek). Nor did I own a Mork lunchbox. I do have to confess to using shazbot (a kind of Orkan swear word) on occasion, which sounds ever-so geeky these days. But hey, I was 8 and you don't get the chance to cuss that often when you're that old.
The thing is, apart from British comedian Benny Hill - who I wasn't really allowed to watch because he was actually pretty dodgy - Mork was one of the first truly fruity people I had come across on TV. Up until then it was mainly a steady diet of Spot On, Close To Home, and A Dog's Show for me.
When I mentioned to a few people I was going to interview Robin Williams - apart from the customs guy, who thought I said Robbie Williams ("Are you going to ask him about his tattoos?") - inevitably it was "nah-noo nah-noo" that always came up.
For old times sake I would have loved to have greeted him like that. But it's probably not the done thing considering the man has not been known as Mork for nearly 30 years now. And besides, I never did quite master making my hand into a V-shape without holding my little finger and ring finger together with my other hand.
So we shake hands normally. He is more relaxed and not as loud as I'd expected (or wanted). Although he does speak in that pacey, controlled blurting style like Mork used to.
He lets rip with long recitations of Ramon's best lines from the film, and jokes about how he has quite a bit in common with the love sick penguin.
"He's in love with a tall girl like I am in real life. I found a tall one too," he says of his third wife Susan Schneider who he married recently.
But when I try to bring up Mork, and how possibly there is a little bit of the lovable alien in Roman, and about how they are both oddballs off in their own little worlds, he's not having it.
"I might have to work on that one in therapy," he laughs. "But no, no. I don't think so."
Well, shazbot to that one then Mork.
-TimeOut