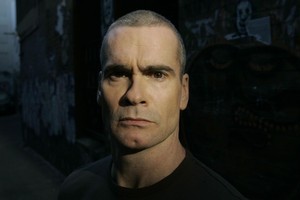 Motormouth Henry Rollins is heading back to NZ shores in April to provoke, amuse and regale us with tales of his travels.
His high intensity spoken-word show will no doubt include observations from recent trips to North Korea, Mongolia, Bhutan, Vietnam, India, Tibet, Sudan, Uganda, Cuba and Haiti, combined with material from his latest book of essays and photographs, Occupants.
For 30 years Rollins has been in the spotlight, as frontman for US punks Black Flag and the Rollins Band, collecting new fans with his no-holds-barred opinions. Lately he's been adding to his CV as an actor (last seen in a henchmen role in Sons of Anarchy), and a broadcaster with an eclectic net radio show on KCRW (henryrollins.com/kcrw).
He's also been filming a new TV series for National Geographic about those who own and eat exotic creatures, which follows his earlier Warrior Gene series for the channel which starts screening here on January 16.
He'll be at Clarence St Theatre in Hamilton on April 11, at the Dux Live in Christchurch on April 12, The Opera House in Wellington on April 13, and at SkyCity Theatre in Auckland on April 14. Tickets available from December 12.
Meanwhile, Ricky, Julian and Bubbles from cult Canadian TV show Trailer Park Boys will be up to their usual dodgy shenanigans when they bring their acclaimeed live show to New Zealand.
The trio starred in seven series and several movies together and will be bringing their Drunk, High and Unemployed Tour to the Auckland Town Hall on March 23.
The show involves Bubbles trying to create a new career for himself in the movie industry, Julian putting his latest money-making scams into action and Ricky having an idea that can "change the world".
Tickets go on sale on December 16 and are available here.
-TimeOut