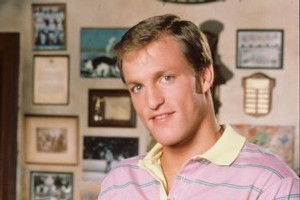 Who is the dumbest character on TV?
I believe that there's a young Australian who best embodies the spirit of stupidity in 2011.
Not actual stupidity like that displayed by the likes of Michelle Bachman or that circus of unfortunates that Winston has dragged into parliament. I'm talking about a brilliantly written character brought to life by an inspired actor.
But some ranting before I reveal this genius and say 'arise Sir Shitforbrains'.
Ricky Gervais would probably call my nominee a mong and not even apologise.
Brilliant as it was, Ricky's David Brent isn't actually stupid enough to make the dumb list. Small-minded, self obsessed, tragic, but stupidity is not the overriding trait.
Woody from Cheers would be right up there.
(Although he's not as dumb as poor old Timothy Treadwell of Grizzly Man-fame who claimed that he auditioned for the part but Harrelson just pipped him at the post, Nekk Minnit, eaten by bears.)
But as brilliantly dim as he was, Woody Harrelson was hardly the first. In fact he wasn't even the first idiot on Cheers. Remember Nicholas Colasanto's obtuse Coach? The last time he appeared on the show is lovely and it's here.
So what other impressive imbeciles are there?
Gomer Pyle was more naïve slack-jaw than truly dumb. Sergeant Shultz from Hogan's Hero's perhaps? He was a little slow but his overriding condition was more akin to laziness.
Gilligan, Rosko P Coltrane? They're good but don't even come close to the animated brain-dead genius of Homer Simpson.
Girls can be stupid too and in America at least they're usually blonde. Like Rose from Golden Girls, Christiana Applegate as Kelly Bundy and Suzanne Somers as Suzanne Somers.

Many of these witless wonders are only available via re-runs these days but you will get the chance to see Jane Horrocks as Bubble the daft PA on Absolutely Fabulous again when the new series airs on TV1 in the new year. A sneak preview is here.
The British have given us so many idiots. Pike, the stupid boy from Dad's Army, Kirk from Coronation Street, Mr Bean from Mr Bean although it's Atkenson's co-star on Blackadder who stole the show.
Baldrick took half-wittery and village idiocy to new heights but he wasn't the un-sharpest knife to come out of the British Isles.
Father Ted's Father Dougal (Ardal O'Hanolan) was utterly, superbly, dense. He's possibly the Beatles of stupid.
His inability to understand basic concepts is beautifully realised in a scene that has Ted holding a plastic cow at various distances from him in a hopeless attempt to teach him the principles of 'near' and 'far'.
The show's creator Gary Lineham says he based the character on Trigger (the dim-witted, horse faced one from Only Fools and Horses) and Woody from Cheers.
So great was the impact of the character, that when Pope John Paul 2 died, bookies were offering odds of 1000-1 that Father Dougal would be the successor. Higher odds than they were giving to some actual Bishops.
So who is the best/stupid/dumb character of 2011?
Jason Stackhouse of Trueblood, that's who. Ryan Kwanten's portrayal of Sookie's bro is one of the scene-stealing delights in a show that's packed to the rafters with scene stealers.
Not that Ryan was in Packed to Rafters, although having already starred in everything from Country Practise to Water Rats and Home and Away, it was probably only a matter of time, and the lack of a green card, away.
While Father Dougal has a pathological fear of women, Jason has the opposite problem, he's even coined a phrase for it: "Pussy-overflow".
It's best illustrated in this scene where he comes clean to his best mate Hoyt about sleeping with the permanently adolescent vampire, Jessica.
So which idiots have I missed?