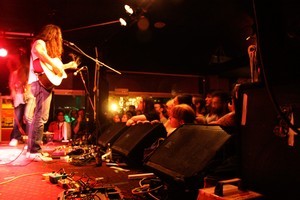 I bet Kurt Vile is not actually vile. I bet he makes crude, vulgar sex jokes when he's around his friends, but generally girls think he's a nice guy. He wasn't going for witty banter in between songs or extended jams instead of ending a song - instead he seemed like he genuinely wanted to make a good go at being in New Zealand for the first time. And the audience, a surprisingly large number of people coming out of the woodworks to pack out Kings Arms (the first time I've ever had to wait in line outside in the carpark to get in), were all just grateful that he came.
I turned up near the end of Emily Edrosa's second-ever solo set, which reinforced for me the utter dedication and hard work that goes into her music. She tuned her guitar to sound like a banjo, and then added an off-beat drum machine to her low, flat voice, which had the end result of something weirdly magical.
Alastair Galbraith crept onstage like your neighbour who fixes your rooftop TV aerial after a stormy night, and sat with his guitar and Walkman to play 45-second capsules of straight-talking and sadness. He would pretend to look down at a setlist at the end of each song, and would rub his hands down the neck of the guitar to kill it quickly.
He was avoiding us, bummed out by the clapping, happy that we were all okay with what he was doing. Basically, he was Laroche making a dial tone with Meryl Streep, uneven sounds out of an uneven snarl.
If we expected snotty, bratty future-grunge star behaviour from Kurt Vile, what we got instead was a high-quality performance of Matador's best kept secret. Driven by '80s power-drumming and the drone of a nasal tone, The Violators were captivating in the tightness of their performance.
Having Sonic Youth as your biggest fans might induce head-swelling in other musicians, but Kurt Vile seemed like a really pleasant dude, calling his t-shirt-wearing band "bros" and switching between solo songs with his battered and mangled acoustic guitar and the bigger full-band tracks like an excitable kid desperate to show you all the presents he got at his birthday party.
Maybe his name is intended to deceive or make people underestimate him. Or Kurt Nice is just a far less cool name.
Who: Kurt Vile w/ Emily Edrosa
Where: Kings Arms, Auckland
When: Thursday 1 December