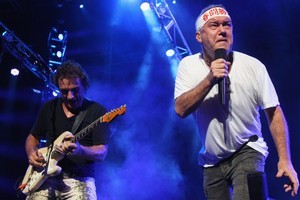 In retrospect it's a pity America never got Cold Chisel, a band which on Saturday once again proved - even after a lengthy hiatus - it could make raucous bar-room rock'n'roll translate into an arena with thrilling emotional impact.
Maybe it's an antipodean thing, but Chisel's songs touch people here at a level few others can and, with Jimmy Barnes' astonishing vocal power and Ian Moss' fiery but focused guitar work out front, they had the capacity crowd in their hand right from Standing on the Outside as they sweated out one great song after another.
But America never got them - which led Barnes to write the air-punching You Got Nothin' I Want about their US experience - and the irony is that so much of their music is grounded in no-frills, pumped up rhythm and blues (the Bo Diddley substructure of Shipping Steel), boogie-blues and Chuck Berry.
Atop they add lyrics, stories and sentiments which connect with people (the audience sang the incendiary Star Hotel, the achingly melodic and empathetic Flame Trees and Forever Now, Bow River and Khe Sanh right back at them) and there is an unvarnished honesty about how they deliver.
Barnes looked set to bust a blood vessel (as was said of Wilson Pickett: Yes he screams, but he screams notes, it's always melodic) but this was also an intelligently programmed set which delivered light and shade.
Against the odds - the death of drummer Steve Prestwich this year, the time away, the attritions of ageing and health - Cold Chisel delivered a no-nonsense, crowd-pleasing rock'n'roll show which touched people where they lived, and sold a helluva lot of T-shirts.
Chisel have always kept their end of the bargain, and the crowd did, too. That much love and respect going to and coming from a stage is rare - and after their Goodbye finale, you knew they have to come back.
The Vector crowd expects nothing less than another triumphant and rowdy return. We want to sing their truth-telling songs to them again.
Who: Cold Chisel
Where: Vector Arena
When: Saturday