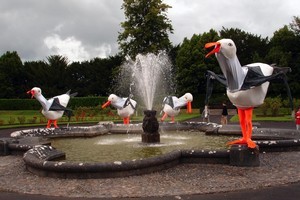 TV
I never wore those silly red socks in support of Sir Peter Blake's victorious America's Cup campaign in 1995, but by crikey I respected the guy. The feature-length documentary Blakey (Tuesday, TV One, 8.30pm), which is timed to commemorate the 10th anniversary of his death, looks at the great man's life, is told through the eyes of his family, friends, and sailing mates, and features action-packed footage from the high seas. And don't forget, on Tuesday night it's the final in the second series of Downton Abbey.
Films
Stories like the one told in new Australian movie Red Dog take me back to watching TV after school and falling into the depths of depression when the littlest Hobo wandered off down the road all on his lonesome at the end of every show. Red Dog is the true story of a kelpie pooch who wanders the outback looking for his owner, and while he's at it he plucks at the heartstrings of a whole community.
Also on the animal front this week (and opening at the weekend) is Shrek spin-off Puss In Boots starring Antonio Banderas as Puss, Salma Hayek as Kitty Softpaws, and a cast of other nutty nursery rhyme characters such as Jack and Jill, and Puss' former childhood friend Humpty Dumpty.
Music
I was always more of an AC/DC and Angels fan when it came to Aussie pub rock. And even to this day I'm more of an expert on Barnesy's solo work than his old band Cold Chisel who recently reformed. Still, with songs like sing-a-long anthems Khe Sanh and Choirgirl, Vector Arena will turn into one big sweaty pub when they play there on Saturday night.
Also playing this week are Neil and Sharon Finn's Pajama Club at the Kings Arms on Sunday, modern-day Texan blues man Black Joe Lewis and his band the Honeybears at the Powerstation on Wednesday, and get your chink and groove on at the Roots festival at Auckland Town Hall on Saturday with House of Shem, 1814, Cornerstone Roots, The Midnights, and many more.
Festivals
Fancy being pecked and prodded by giant seagulls? Or perhaps marvel at aerial artists leaping around tall buildings? Well, starting next Tuesday you can do that and more at the Random Acts festival, a series of free street performances in Aotea Square, Elliot St and Lorne St. It kicks off with Beam in Aotea Square (every night until December 24) which features eight moving searchlights creating light patterns across the night sky, complemented by specially mixed music, which you can hear live in the square or download and listen to from wherever you're watching the light show. For more info and performance times go to randomacts.org.nz.
-TimeOut