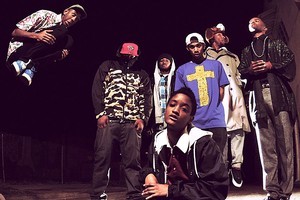 A Wellington man who helped get hip-hop group Odd Future banned from performing at Auckland's Big Day Out has received "around a dozen" death threats.
Calum Bennachie, who complained that the Los Angeles-based rap collective were homophobic and would promote violence, says he has also had "dozens more threats of violence".
Bennachie, who also helped reggae star Beanie Man removed from the 2009 line-up, wrote a letter to Auckland City Council complaining about the band's lyrics after Odd Future were included on the Big Day Out bill for 2012.
They were swiftly removed from the line-up, but are still playing all Australian Big Day Outs.
Rumours persist that Odd Future will perform their own show in Auckland around the time of the Big Day Out.
Speaking to TV3 reporter David Farrier, Bennachie said despite the death threats, he would continue to complain about bands coming to New Zealand if they sang songs that promoted violence or homophobia.
"Too often gay men are targeted as objects of violence or ridicule in the streets, the perpetrators feeling safe in doing so because of the messages in hate music.
"I hope that by now, Big Day Out have learned their lesson, and will not continue to bring over music that specifically threatens people with violence."
He also complained about the possibility of an Odd Future sideshow.
"I hope that when someone is assaulted because of their sexual orientation, or their gender, or their ethnicity, they will think back about what they have allowed to happen."
Odd Future ringleader Tyler, The Creator has denied accusations his lyrics are homophobic.
"I'm not homophobic,'' he told magazine NME. "I just think 'faggot' hits and hurts people. It hits. And 'gay' just means you're stupid. I don't know, we don't think about it, we're just kids. We don't think about that shit.
"But I don't hate gay people. I don't want anyone to think I'm homophobic.''
The Big Day Out will be held on January 20 in Auckland and will feature Soundgarden, Foster the People and My Chemical Romance.
- Herald online