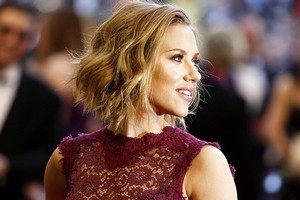 Scarlett Johansson's virtual duet with late crooner Dean Martin has hit the net.
The Avengers star has lent her vocals to festive fave I'll Be Home for Christmas, which appears on the Martin compilation My Kind of Christmas.
"Growing up in New York City, Christmas was never Christmas without Dino," Johansson said of recording the track.
"Recording in the studio with Mr Martin in my headphones felt as though he were standing right next to me, crooning with that mischievous gleam in his eye.
"When I was asked to sing on this album, it was literally a childhood dream come true."
And it isn't the first time Johansson's busted her singing chops.
She released an album of Tom Waits covers in 2008, and dropped a collaborative album with Pete Yorn, entitled Break Up, the following year.
What's your verdict: Tinsel time treat, or festive turkey?
Listen to Johansson and Martin's beyond-the-grave duet of I'll Be Home For Christmas below:
'I can't think of anything I'd rather do less...'
P.S. Dear Facebook, Scarlett Johansson doesn't "like" you.
The 27-year-old actress also recently admitted that she's no fan of social media - because she wants to keep her personal life private.
Cough and splutter, indeed. Ironic, given her recent nude snaps scandal. But those titilating shots were never meant for public consumption, remember - strictly for then-hubby Ryan Reynolds' eyes only. Oops!).
Speaking to Huffington Post founder Arianna Huffington for Interview magazine, she said: "I don't have a Facebook or a Twitter account, and I don't know how I feel about this idea of, 'Now, I'm eating dinner, and I want everyone to know that I'm having dinner at this time,' or 'I just mailed a letter and dropped off my kids.'
"That, to me, is a very strange phenomenon. I can't think of anything I'd rather do less than have to continuously share details of my everyday life."
Johansson, whose private nude snaps hit the web in September after a hacker tapped into her email account, also said she was "always surprised" that so many of her fellow actors impart with personal information over the platforms.
"I guess they use it in a way that works for them," she said. "But I'd rather that people had less access to my personal life. If I could keep it that way, I'd be a happy lady.'"
Explaining why she's so fiercely protective of her private life, she added: "My favourite actors are actors who are enigmatic and mysterious and never make the obvious choice in terms of the projects they do or who they work with or their craft," Johansson said.
"I think that the less I know about an actor, the more chance I have of allowing their own persona to kind of slip away so I can get completely lost in the character they're playing. The more that people think they know about your personal life, the more difficult it becomes to preserve that."
Old school. But does she have a point?
Check out her full interview here.
- Blogger Bites Back