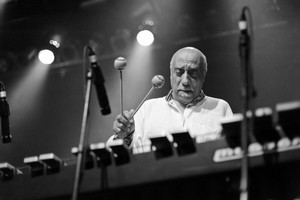 Had some of those pundits who've been making our lives a misery of late conducted an exit poll on the crowd leaving The Powerstation on Friday night, they would have seen a compelling swing towards the kind of gargantuan grins and satisfied sighs that party poli-tricks can rarely muster. After an hour-plus in the company of Ethio-jazz founder Mulatu Astatke and his Melbournian cohorts, Black Jesus Experience, the pleasingly mixed-up crowd who filled out The Powerstation to an optimum level left an overwhelmingly happy bunch.
Moving through gems from Ethiopia's musical "golden age" (Yekermo Sew, Netsanet, Yekatit, Yegelle Tezeta), 1972's classic Mulatu of Ethiopia album (Dewel, Mulatu) and right up to his recent work alongside The Heliocentrics (Cha Cha, Chik Chikka) with a Coltrane cover thrown in, this was basically a well-weighted, greatest hits set of pentatonic power.
Aside from the sporadic interjections of the giant-size, superfluous rapper, Mr Monk, and a couple of unnecessary guitar solos, Black Jesus Experience were completely on point. Having now had the good fortune to witness the band play two quite differently slanted sets with Astatke, it isn't hard to see why he approached the cosmopolitan outfit after first seeing them perform on tour in Addis Ababa. Since then, they have combined to give highlight performances at the Melbourne Jazz Festival and on a tour of Australia in 2010, as well as being his band of choice at this year's Big Chill festival.
Though we have been subjected to some Australian aberrations playing behind international artists in the past, this hard working nine-piece band are no pick-up outfit. Any doubt about that was thoroughly expunged by the stunning keyboard work and driving dexterity of Thai Matus, who threatened to infringe on the old master's spotlight with his solid playing throughout. On Yegelle Tezeta, which closed out the scheduled set, Matus added all the extra colour that's necessary when there's just a two-man horn section, sending furious runs up and down the keys. Inevitably Yègellé Tezeta, the song that was made famous by Broken Flowers and then famous-er still with Nas and Damian Marley's sampling for As We Enter, got the biggest cheer of the night, though it was a close run thing.
Switching between his trademark vibes, percussion and a spell on the Rhodes, Mulatu was in his element, winning over the crowd with his relaxed virtuosity, humble introductions and gentlemanly nature.
In an era of sham "legacy" acts and dubious reformations wringing the last dollar out of their gullible, nostalgia-blinded audience, this night was all class, in the here and now, and only possibly lacking a longer encore.
Who: Mulatu Astatke
Where: The Powerstation, Auckland
When: Friday 25 November