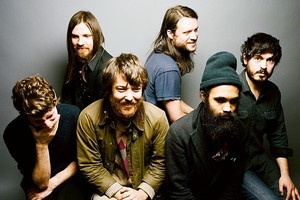 It's been a long time coming, but the new video from folky bearded hipsters Fleet Foxes is well worth the wait.
Directed by Sean Pecknold, the brother of Foxes singer Robin Pecknold, The Shrine/An Argument is an epic eight-minute animated clip that suits the music perfectly.
The Shrine/An Argument is from Fleet Foxes' latest album, Helplessness Blues.
The band will perform at Wellington's Town Hall on January 13 and Auckland's Town Hall on January 14.
Check out the video for The Shrine/An Argument:
If you've ever wanted to hear a group of chickens cluck their way through a cover of Cee-Lo's hit single Forget You, you're in luck.
Camilla and the Chickens from The Muppets have recorded their version of the song in an economical two minutes. Clucking brilliant.
The new Muppets movie, starring Jason Segel and Amy Adams, opens in New Zealand at the end of December.
Check out the video for Forget You:
Here's something you probably didn't expect - a classy Lady Gaga video.
The controversial pop queen keeps her clothes on in the new clip for Marry the Night.
Instead of the usual display of raunch and gyrating, Gaga instead looks regal as she sings on a balcony next to a piano and an extravagant fruit display.
Check out the video for Marry the Night:
The Checks are back with the second single from their new album, and they're Ready To Die.
That's the title of the song anyway, and the video features an extremely warped version of Fight Club.
Ready To Die is from the band's third album Deadly Summer Sway.
Check out the video for Ready To Die:
You might want to send the kids home for this last video.
That's because Dance For You features a pre-pregnancy Beyonce performing a seductive strip tease for a detective. Lucky guy.
It's the seventh clip from Beyonce's recent album 4. But be warned, it's probably not safe for work.
Check out the video for Dance For You:
- Herald online