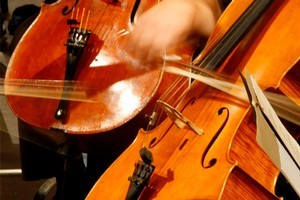 Auckland Philharmonia Orchestra's Thursday concert was introduced from the stage by Barbara Glaser herself. While it must have been frustrating for the chief executive to have audience behind her in the choir stalls as she spoke, there was the sweetest compensation in the fact that this Grand Finale for this year's main series had drawn a full house. The combination of conductor Roy Goodman and soloist Cedric Tiberghien in Brahms' Second Piano Concerto was promising.
The French pianist wasted little time in asserting that his Brahms would be on the lean side. And Goodman latched on to every opportunity that the composer gives for disguising the regular and expected when it comes to phrasing.
The Town Hall Steinway was not as responsive as it might have been at both its extremes, dispensing gruff thuds down low and some distractingly glassy top notes. Tiberghien was not without blemish under duress but brought a Gallic elegance to the many asides that Brahms allows him.
The emotional heart of the scherzo lay in its dreamier moments - especially when Tiberghien unfolded what were essentially two short B flat Nocturnes.
There was more of the elegiac in the Andante with Eliah Sakakushev's shapely cello playing striking a bond with the simpatico pianist. A frisky Finale brought out all the springtime birds and flowers that the Frenchman had promised.
There are strange, almost Debussian moments in the Brahms and a rather reserved encore of the French composer's Danseuses de Delphes came across as a first cousin to one of the German composer's Intermezzi.
After interval, even with the slight taint of weariness in the violins, Goodman gave us a stirring account of Dvorak's great D minor Symphony
From the first bars of the Allegro maestoso, every phrase, every note had a purpose. Themes proliferated in continuous development as is Dvorak's wont and Goodman fashioned them into a compelling narrative. The sylvan beauties of the Andante echoed the aviary of the Brahms finale and, after a stunningly up-tempo Furiant, Goodman brought a remarkable symphonic cohesion to Dvorak's closing movement.