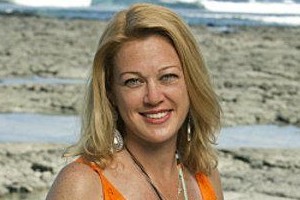 Survivor's latest victim Christine Shields Markoski says having to leave the reality show after winning five straight Redemption Island duels was "horrible".
The 39-year-old New York teacher was the first contestant sent to Redemption Island on Survivor: South Pacific but managed to mastermind the elimination of five fellow competitors - until she came face-to-face with opposing tribe leader Oscar "Ozzy" Lusth.
Lusth, who had taken the controversial move to send himself to Redemption Island, beat Markoski on her 14th day, easily winning a key gathering challenge.
She told nzherald.co.nz she had grown to enjoy spending time on her own.
"At first it was really difficult and I was very lonely. I kept asking myself what I was doing and second guessing every decision. Once I got over that it became my home," she said.
"It's amazing what the human spirit and body and mind can adapt to and learn to enjoy."
Markoski said it would be easy to go crazy spending all that time on your own.
"I kept myself busy. I used tree mail and a piece of charcoal to journal every day. I mended my clothes. I hunted and gathered. I was a real cavewoman.
"(You have to) keep your hands busy and your mind busy. An idle mind is the devil's workshop, especially if you let it run away from you. You have to really work through those deep moments."
She admitted Lusth beat her "fair and square" but said she thought she deserved to return to her tribe.
"I really felt that I'd paid my dues. I felt like I deserved to go back in the game."
Her plan if she returned was to flip on her original Upolu tribe, led by Benjamin 'Coach' Wade, and side with Savaii.
She was still angry about being eliminated first, and blamed Wade - who she disliked from the moment they met - for the decision.
"He was very vague about what he was going to do, which is kind of funny because I'm really no threat. I didn't like (him), I didn't like laziness."
She wanted to see either Dawn Meehan or John Cochrane to win.
* Survivor: South Pacific screens on Four every Wednesday at 8.30pm. nzherald.co.nz will interview every contestant as they are eliminated.
- Herald online