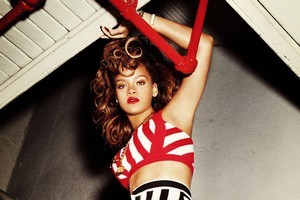 The incredible thing about reigning pop queen Rihanna - because really, forget about Gaga for now - is not her ability to strike the most sultry and seductive pose in music. Or that she has one of pop's most unique and mysterious voices. Not to mention the fact the 23-year-old already holds a powerful grip over not just the music business but the entertainment world as a whole.
But what is perhaps most astonishing is that Talk That Talk is her sixth album in as many years since releasing her debut Music of the Sun in 2005. That doesn't happen much these days.
The girl from St Michael, Barbados, is a prolific R&B pop machine - and so far, for the most part, her output has ranged from good to top-notch.
Talk That Talk is a step up from last year's Loud, which lacked the impact of 2007's near pop classic Girl Gone Bad (the one with Umbrella on it) and dark and tumultuous follow-up Rated R, which followed her messy break-up with Chris Brown.
Though there's nothing quite as addictive and catchy as Loud's synth-powered highlight Only Girl (In the World), overall this is a better and more interesting album because it's inventive and the girl - and the many producers she works with - has mostly great taste. And in the case of a song like Drunk On Love it's inspired stuff. That track is produced by long-time collaborators Stargate (who did Only Girl (In the World)) and they sample the beautifully eerie Intro by hushed and minimal Brit rockers The xx to perfection. They inject it with even more steely synth stealth and it's an unassuming highlight on an album somewhat dominated by overbearing first single We Found Love (featuring electro house boffin Calvin Harris).
If you have a penchant for banging electro trance house pop, or whatever it is this often ghastly nonsense is called these days, chances are you're among the millions who have got their groove on to We Found Love which has been No. 1 everywhere in recent weeks.
The thing is, apart from odd interlude Birthday Cake midway through the album, it is the weakest track here. Far better is rousing epic banger Where Have You Been, which is more psychedelic and trancey than head-banging cheese.
Elsewhere Talk That Talk has got it all, from those obligatory hits, sentimental serenades like the lovely We All Want (Love), to the trademark offerings of lewd and promiscuous shenanigans on Cockiness (Love It) and Watch 'N' Learn ("do it on the bed, on the couch ...), and the staunch and posturing pop of Roc Me Out bristles with a "don't mess with me" attitude.
So apart from We Found Love (and even that has its place), Talk That Talk is a diverse and dancey cracker.
Stars: 4/5
Verdict: Strut your way onto the dancefloor
-TimeOut