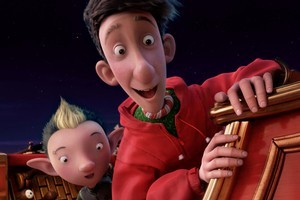 MUSIC
The Flying Nun birthday celebrations continue when Hamish Kilgour returns from New York for a reunion show from The Clean at The Kings Arms tonight. Tomorrow eve, influential Ethiopian jazz musician Mulatu Astatke will get feet tapping at The Powerstation, or you could head along to the cosy Backbeat Bar for a double album release show from local alt-rockers Lindon Puffin and Victoria Girling-Butcher.
Saturday night sees local lads The Checks take on The Powerstation with their groove-fuelled Deadly Summer Sway jams (it'll be a good chance to forget about the election for a couple of hours), and if you're looking for a bit of comforting nostalgia come Sunday, The Moody Blues will be entertaining at The Civic. From across the ditch, folk musician Jordie Lane will be charming the Wine Cellar with some gentle fingerpicking come Tuesday, and The Sami Sisters join Tim Finn and his band for a distinguished show at The Mercury Theatre on Wednesday.
MOVIES
Seasonally themed movies kick off this week with British animated festive fantasy Arthur Christmas.
The animators of Wallace and Gromit team up with the writers of I'm Alan Partridge to weave a tale about Arthur (voiced by James McAvoy), and the Claus family, voiced by Jim Broadbent, Imelda Staunton, Hugh Laurie, and Bill Nighy.
There's also Tony Barry (Goodbye Pork Pie) getting involved as an undercover cop in a Kiwi story of sex, drugs and mobility scooters in Rest For The Wicked, also starring John Bach, Ilona Rodgers, Elizabeth McRae, Sara Wiseman, and Ian Mune.
At the other end of the age spectrum there's Submarine, a British coming-of-age comedy about 15-year-old Oliver (played by newcomer Craig Roberts) who sees himself as a cool, literary genius, (when in reality he's quite socially inept) trying to make his family reconnect while also hatching plans to lose his virginity to his pyromaniac girlfriend.
Also look out for Bosnian-set political thriller about sex-trafficking The Whistleblower, starring Rachel Weisz, and local documentary When A City Falls, which chronicles the impact of Christchurch's devastating earthquakes.
TV
Throw a party and get your (politically like-minded) mates around for the television event of the week - election coverage. After a week of leaders' debates, public addresses, interviews, and controversy, it all comes down to Saturday evening. TV One, TV3 and Maori TV will be getting down to the nitty gritty from 7pm on as we wait to find out the fate of our nation for the next three years. The teams of entertaining panellists will be led by Mark Sainsbury, John Campbell and Julian Wilcox, respectively.
OR...
For something a little intriguing and possibly magical, check out Dunedin avant garde musician and creator Alastair Galbraith, turning one of the giant old silos down on Wynyard Quarter into a musical instrument on Friday evening. In the past Galbraith has built such instruments as a glass-tube fire organ, and a treadle-powered glass harmonium, so it's sure to be a treat. He'll be doing performances from 6-8pm, on the half-hour, as part of a series of events celebrating the NZ Arts Foundation awards.
-TimeOut