He's a man of few words, but on the eve of his first visit to New Zealand, rock 'n' roll blues artist Black Joe Lewis shares some of them with Scott Kara.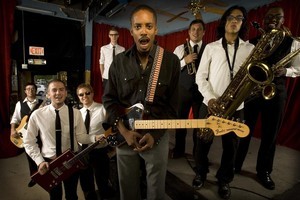 Black Joe Lewis is "just a made-up name" says the man himself. Of course, he's only referring to the "Black" bit.
"It just sounds cool, dude. So ... it's just a name," he says in his deadbeat and, as TimeOut was to find out, coolly concise way.
You see, this good-time, hot footin' rock 'n' roll blues singer and guitar player from Austin, Texas, sure is a man of few words. It's not that he's rude. It's just that he hardly elaborates on anything. But he does show signs of branching out when he's asked about finding that raw and wild voice of his.
"It was a trial-by-fire kinda thing, like on stage it took a while to figure out what makes yourself sound good," he says on the phone from somewhere in Northern California on his way to Portland with his six-piece band the Honeybears.
"And if you play enough shows then you end up figuring out what you're doing."
It's as if Lewis hasn't really thought too much about how he came to be making this sort of music, except that it's just the way it's meant to be - and that music is a gift that he has been given.
"I just play music and it sounds the way it does. It's just something that happens, you know. It's just one of those things, when you've got it you've got it, when you don't you don't."
The 30-year-old is a fan of old-style blues like Howlin' Wolf, Robert Johnson and Lightnin' Hopkins. He started getting into this sort of music in his late teens when he was trying to expand his musical tastes beyond Memphis soul and garage punk from Detroit.
"I just like the way it sounds," he says of the blues.
It's clear Lewis is one of those musicians who lets his music do the talking. But you have to cut the guy some slack given the excellent Scandalous album from earlier this year.
It's a gritty, hard-out, stomping mix of blues fuelled by a good dose of rock 'n' roll, soul, funk and punk.
And judging by reviews and footage online, Lewis and the Honeybears put on a scorching live show, which they will be doing in New Zealand on December 7 when they play the Powerstation.
Though Lewis grew up listening to a lot of music, he was inspired to start playing by his neighbours who had a country band and were always heading out on tour. "I was like, 'Man, I gotta get in on that'," he says. So he grabbed a guitar from the wall of a pawn shop he was working at and started playing.
Initially getting his songs heard was hard but things started looking up when he met Honeybears' guitarist Zach Ernst who booked Lewis to open for Little Richard at a music festival at the University of Texas in 2007. He and Ernst have been playing together ever since.
"I met Zach, he introduced me to the rest of the guys, and we just rehearsed, jammed out, and here we are. We just get along great. I don't know why. Shit happens for a reason."
Since signing to Nashville-based label Lost Highway Records in 2008 they've released an EP, debut album Tell Em What Your Name Is in 2009 and now Scandalous.
The latter moves from the sweet love-lorn brassy blues of Since I Met You Baby, into the political and fiery funk (a la Funkadelic) of You Been Lyin', and then there's the thigh-slapping, seedy Mustang Ranch, a true story - well, mostly true - about Lewis and the Honeybears calling into a gentlemen's establishment for a break while on tour.
"We were just driving one night - and the song tells the story. That's pretty much how it went down, dude."
The song stands out on the album because Lewis swaps his strong hootin' and howlin' serenade for a yabbering, blues rap. "It was just like, it might sound cooler if I talk it instead of singin' it. Tell the story. It's like I say, it's just how this stuff comes out."
LOWDOWN
Who: Black Joe Lewis and the Honey Bears
What: Howlin' blues with a punk, funk and rock 'n' roll attitude
Playing: The Powerstation, Auckland, December 7
Listen to: Scandalous, out now
-TimeOut