Antonio Banderas and Salma Hayek team up in Puss in Boots, and they are purring with delight at being able to work together again, writes Helen Barlow.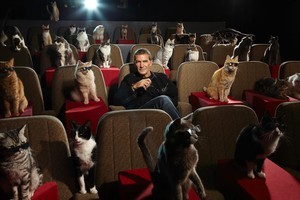 Saucy Spaniard Antonio Banderas and fiery Mexican Salma Hayek have appeared in five movies together - and now, in the animated Puss in Boots, they continue their convincing double act.
During the making of the film Banderas, 51, insisted they voiced their parts together, and recently they have been in cahoots promoting the Shrek spin-off at premieres around the world.
"Salma and I are old friends," says Banderas, who ignited international box office numbers, particularly in Spanish-speaking markets, when his Puss character came on board in Shrek 2. "We have such great chemistry. We fight very well on camera, we dance well and we glare at each other romantically. We have a kind of rhythm and we can improvise. It was great to work with her again."
The pair are versatile performers who are at ease in both dramas and comedies. On a personal level they're also both outgoing and, as they reveal today at the film's launch in Cannes, they love to talk. Neither has lost their accent, even if they ham it up in the film. Banderas' Puss is a little big man, a deep-voiced ginger cat brandishing a sword, wearing boots and a feather in his hat and brings to mind his dashing hero in The Mask of Zorro.
"I get more attention as the pussycat than I ever did as Zorro. Everyone thinks he's so cute," Banderas coos.
Meanwhile Hayek's Kitty Softpaws is a slinky, brilliantly blue-eyed Siamese with clawless paws that make her a perfect thief. We learn in the back story how her claws were cruelly removed after she had scratched one too many times, though the movie is more about Puss and how he became the cool heroic cat before he met Shrek and Donkey. Kitty uses her sexiness as a tool, not unlike Hayek in her previous roles, most memorably as Santanico Pandemonium in her bikini-clad dance with a live snake in From Dusk Till Dawn. Today she twirls around a feather boa to similar effect.
"This is the first time I do an animation film and I couldn't have picked a better one," admits Hayek, who took a career hiatus to have her daughter Valentina, 4, with husband, French billionaire Francois-Henri Pinault. "Of course I was excited for my daughter to see the film, but in one way it's a little sad because I had to explain to her that the cat is not for real, that's it's actually my voice. She saw the drawings and asked me all kinds of questions. She's very much been part of the process.
"Being here in Cannes is like a comeback. I started out here with Antonio and here we are again, two years later," the 45-year-old jokes.
"And now we are in three dimensions," Banderas interjects. "But Salma is as beautiful in two dimensions as three dimensions. Salma you are like a good wine. Time goes by and you only get better, baby!"
The film's director Chris Miller had worked on all the Shrek films, directing Shrek the Third.
"We'd long been wanting to make a Puss in Boots film", he explains. "Of all the characters that came out of that Shrek universe he was always my personal favourite. I always gravitated towards the cat. He may be small in stature yet he's larger than life and full of bravado. He's got this big heart but just enough of the devil in him and is full of intrigue. We always were asking ourselves, 'What's his story? Where did he get those boots? Where did he get that accent?' We really knew we had this breakout character who deserved his own movie."
The film abandons any connection to Charles Perrault's 17th-century fable (even if the ogre-outwitting twist explained what Puss was doing in Shrek 2 in the first place). Set in Old Spain and resembling a Sergio Leone western, the world of Puss in Boots is populated by twisted nursery-rhyme characters like treacherous outlaws Jack and Jill (voiced by Billy Bob Thornton and Amy Sedaris); there's a goose and a golden egg as well as a beanstalk, which is particularly effective hurtling through the stratosphere in the film's 3D format.
Most prominently though there's Puss' former childhood friend, Humpty Dumpty (Zach Galifianakis) with whom he grew up in an orphanage. We are told how Puss was adopted out as a youngster and how they had fallen out. The story follows Humpty coming back into Puss' life in their adulthood as he has found a way to make their childhood dream of finding magic beans come true. A second cat is needed to make it happen and that's where Kitty Softpaws comes into the story.
The film, which also boasts Guillermo del Toro as an executive producer and story consultant, has been a huge success in the US, beating out the Ben Stiller comedy Tower Heist in Puss' second week of release. A sequel should surely be on the way.
LOWDOWN
What: Puss in Boots, opens Dec 3
Who: Antonio Banderas and Salma Hayek
-TimeOut