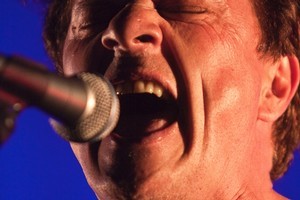 Boasting a significantly larger and more energetic audience than the previous night's experimentalism of the Dead C and HDU, the second consecutive night of Flying Nun's Nunvember celebrations saw a crowd filled with characters from Dunedin's musical history and father/son combos ready to celebrate the label's 30th anniversary in the historic Flying Nun home of Sammy's.
With a rough, reverbed sound drawing on both Sonic Youth and The Gordons, new Flying Nun signings Popstrangers put in a strong performance in their first ever visit to Dunedin. The trio delivered a demented take on psychedelic pop, a procession of droning guitar and distorted bass, all rich in the sonic lineage of their new label.
Things got ragged as Ghost Club took the stage, their short, loose set clearly suffering from performance rust. While it was still a pleasure to see Denise Roughan deliver her dexterous heavy grooves as a platform for David Mitchell's wonky guitar-hero workouts, overall their set was more charming than engaging.
Shayne Carter's extensive and diverse back catalogue is certainly worthy of investigation, and Carter seemed to be genuinely enjoying himself on stage as he delivered an set ranging from Bored Games' Joe 90 to an Eastern-influenced, 10-minute instrumental version of Dimmer's Seed.
Backed by Gary Sullivan (JPSE, Dimmer) and Vaughan Williams, the power trio format offered a raw take on the Straitjacket Fits numbers.
While his songbook has already cemented its place in New Zealand's musical cannon, Carter isn't normally one to rest on his laurels. This was a welcome revisit to his storied past.
Who: Shayne P. Carter, Ghost Club and Popstrangers
When: Saturday 19 November
Where: Sammy's, Dunedin