Dum Dum Girls' frontwoman Dee Dee Penny knows marriage and rock'n'roll don't always form a blissful union. But Penny remains philosophical regarding the bouts of separation from her husband, Chris Welchez.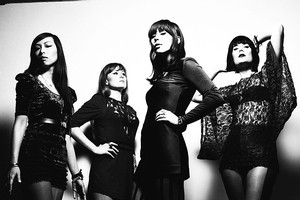 Dee Dee Penny has managed to nap the day away with her husband in a hotel room in Brussels. A peaceful moment of relative normality stolen during the organised chaos that comes with touring a band to the other side of the globe.
"It's the life that we have chosen, so you have to make an effort," Penny says in her soft West Coast drawl. "But we are definitely trying to spend a lot more time together."
Consequently, when it came time to tour the group's sophomore album, Only in Dreams, Welchez came along for the ride - first with around US, and then on tour with "the girls" in Europe this month.
It is perhaps a little ironic, considering that the chasms caused by the couple's separate expeditions provided much of the material for the album, alongside inspiration drawn from the death of her mother from cancer last year.
"The main theme of the record is sort of a semi-awareness of a great divide between what you have and what you want," says Penny. "And things existing in the dream realm, because they are not actually possible to have in real life."
Only in Dreams has been described as the biggest musical evolution for Dum Dum Girls, which, despite their name, began as a solo bedroom project for Penny, whose real name is Kirsten Gundred.
It is undeniably a more polished sound, thanks to the help of esteemed producer Richard Gottehrer, who has worked with bands ranging from '60s girl group The Angels to all-female new wave act The Go-Gos. Gottehrer, therefore, was the perfect person to pull Penny's shy vocals to the fore and reveal her sultry tone.
Another difference from previous releases is the surf guitar thread that stitches Only in Dreams together, a style Penny admits she has always been drawn to.
"One of the first records I remember listening to from my Dad's collection was a Ventures record, and I've always really loved that. The issue for me, and why it's maybe not apparent in the other recordings, is that I am not a very good guitar player."
Enter bandmates Jules on guitar, Bambi on bass and Sandy on drums. Previously hired guns for touring, this is the first album Penny had ever had play on something she has recorded.
"I don't know that it'll really ever cross over from being my band. I'm still the songwriter, and still the leader in that sense, but we definitely have become more of a family."
Assembling an all-girl band was no sweet accident - Penny had been inspired over the years by bands that were predominately women, and knew it was a tradition she wanted to tap into.
"It just seemed like there was a different sort of energy and I was curious what that sort of experience would be like... and it worked so well."
Dum Dum Girls have their rock'n'roll aesthetic locked down. The black vintage dresses, dark glasses, long legs, red lipstick and cool stares - it all equates to definite rock'n'roll cool factor.
It was fitting then that the band recorded at Josh Homme's Pink Duck Studio in Los Angeles. There, surrounded by leopard print and Elvis paintings, the Dum Dum's got to indulge in some classic equipment.
"It was quite a museum of vintage gear, a pretty unbelievable collection of amplifiers, guitars and bass guitars," recollects Penny. "Josh came to visit one day, and he rolled up on his motorcycle with his leather jacket. It was almost comical how rock'n'roll it felt."
Seeing her brainchild flourish was a rewarding process for Penny. But, in the spirit of evolution, she is aware she doesn't want to repeat herself and "make the same record" again.
Her next release will be a collection of "atmospheric dream-poppy" songs recorded in her current hometown of New York, originally intended as B-sides for Only in Dreams.
In the meantime Penny will be busy continuing to tour around the world. The Dum Dum Girls will be arriving in New Zealand in January, sans Welchez, who is unable to come.
Nevertheless, Penny is cool about the impending time away from her husband, and excited to bring her band to these shores for the first time.
* Volume presents Dum Dum Girls at Auckland's Kings Arms on Friday 6 January - tickets from undertheradar.co.nz and Real Groovy.