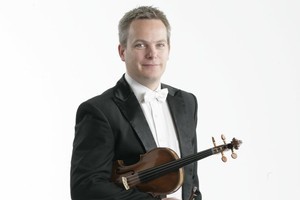 The prospect of an afternoon with the strings of the New Zealand Symphony Orchestra did not tempt so many from the spring sunshine; Saturday's Strings Possessed drew one of the smallest audiences I have experienced in the town hall.
Leading from his concertmaster's desk, Vesa-Matti Leppanen kept Rossini's D major String Sonata brisk and tidy. This frothy frippery is hardly music to test interpretative skills but, pleasantly abuzz with scales running hither and thither, it provided a zesty overture.
Bottesini's Grand Duo Concertant, with its solo parts taken by violinist Ilya Kaler and double-bassist Hiroshi Ikematsu, was similarly thin in musical substance.
Ikematsu is the NZSO's principal bassist and a fine artist. Early on, he impressed with russet-toned lyricism and he can create harmonics that have the lightness and luminescence of pearl. But, as we soon discovered, this was not going to be your standard starchy concerto.
At one point, speaking into a microphone Ikematsu gave us a tongue-in-cheek running commentary on his virtuosity while engaged in the sort of music for which most players would demand single-minded concentration.
This merriment came to a head when, leaning back on his seat, Ikematsu played his instrument while one and then both legs were extended in the air.
Kaler, playing Lou Costello to the bassist's Bud Abbott, was an enthusiastic sidekick, shouldering his way forward at one point to claim a piece of the action.
After interval, an extra piece that had been promised by Leppanen at the beginning of the afternoon turned out to be Ysaye's sixth sonata. Kaler's impassioned performance was a prelude of sorts to Il Palpiti, in which the orchestra joined him to romp through Paganini's playful dalliances with an unsuspecting aria from Rossini's Tancredi.
After all this Italianate levity, Tchaikovsky's Serenade for Strings restored some seriousness. From the sweeping phrases of the opening Sonatina, Leppanen and his strings created a genuinely symphonic experience without sacrificing the work's essential grace and tunefulness.
What: NZSO Soloists
Where: Auckland Town Hall
When: Saturday