Despite a long list of career hits, the movie star has yet to put an Oscar on his mantelpiece.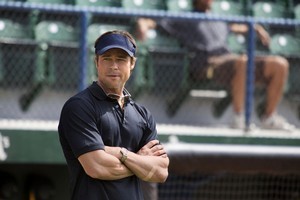 Brad Pitt went on record this week saying that he'll retire when he's 50 - which gives him just three years to nab an Oscar.
He's been nominated twice, once in the supporting category for 12 Monkeys and once for the top prize for The Curious Case of Benjamin Button. His chances of making it third time lucky next year may now receive a boost, not so much because he has threatened to spend more time with his children, but because he's decided to appear in a sports movie.
In Moneyball, Pitt plays the Oakland Athletics general manager Billy Beane, who in 2002 devised a new scouting system to recruit baseball players. It enabled his unfancied team to go on a 20-game winning streak, setting an American League baseball record.
In the race to win an Oscar, starring in a sports movie is to men what putting on a prosthetic nose is to women. It doesn't matter if the movie is a stinker as anyone who has seen Invictus will attest. Morgan Freeman was nominated for his turn as Nelson Mandela in Clint Eastwood's worst film (which, given that Eastwood has Space Cowboys and The Rookie on his directorial credits, is saying a lot).
Eastwood himself has benefited from the Academy's love of a sports yarn. Surprisingly, the actor has only received two acting nominations - one for Unforgiven in 1992 and the other for playing a coach in the boxing, euthanasia mishmash Million Dollar Baby. Hillary Swank won her second Oscar playing the boxer, proving it's not just a trend for the boys.
Sandra Bullock won the Best Actress Oscar last year for her turn in The Blind Side, in which she played a Christian family woman who takes a troubled, up-and-coming African-American football star into her home and provides him with the love, care and attention to enable him to stay out of trouble and work on his game.
The Blind Side is based on the true story of the Baltimore Ravens star Michael Oher which was first the subject of a book by Michael Lewis, who also wrote Moneyball: the Art of Winning an Unfair Game upon which the Brad Pitt film is based.
Almost as surprising as Bullock winning an Oscar was Mickey Rourke's nomination in 2008. Rourke's finest hours came in the 1980s when he was turning out in Diner, Rumble Fish, and Angel Heart. The actor then decided to embark on a short-lived boxing career in the early 1990s before returning to the acting game, washed-up and something of a relic.
Along came Darren Aronofsky with the smart idea of casting Rourke as the washed-up wrestling star Robin Ramzinkski, still living off his heyday in the 1980s. Desperate to relive former glories, the wrestler embarks on a return to the ring. The film's theme of sporting success hand-in-hand with failure at home is also a major thread in Moneyball in which Beane desperately tries to reconnect with his daughter.
Denzel Washington and Will Smith have both been nominated for boxing roles, too: Washington in 2000 for The Hurricane in which he played Rubin "Hurricane" Carter, the middleweight boxer convicted of murder in 1967 following a triple homicide in New Jersey. The conviction was quashed in 1985.
And Smith received the first of his two Oscar nominations in 2002 when he played Muhammad Ali in Michael Mann's biopic Ali. Not exactly Smith's or Mann's finest hour, yet the sports theme, civil-rights backdrop and portrayal of an icon all scream gold statue.
Last weekend, James Earle Jones received an Honorary Academy Award, aged 80. The actor had been given one best actor nomination in his distinguished career, when he played Jack Johnson, a real-life boxer, in The Great White Hope in 1970.
Yet the sad truth about most of the "sporting" nominations of the past 15 years is that the actors are rarely being recognised for their career best turns. It used to be that the Academy would wait for great turns in boxing movies and reward the performance. Now that they've opened up to other sports, the quality has gone down.
Sports movies are full of cliches and stereotypes. They are primarily - and this is what strikes home with Oscar voters - films about the American dream and the idea that even the smallest man can overcome the odds with hard work and dedication to get to the top of their profession.
Such idealism used to pervade Hollywood films, but as the gap between rich and poor has grown wider in society and the Occupy Wall St campaigners are being swept out of their tents, it appears it's only in the sporting arena that such dreams can still come true.
Brad Pitt puts in a good turn in Moneyball, and following over-the-top performances in Inglourious Basterds and Burn After Reading, he takes a leaf out of Ryan Gosling's book and goes for the less-is-more approach. It's ironic, though, that all of the Oscar talk is around Pitt and Moneyball when it's not even the actor's best turn this year. In the Cannes Palme d'Or winner The Tree of Life, Pitt puts in one of his most studied and heart-rending turns for Terrence Malick.
But in between the dinosaurs, wars and exploding planets, there just wasn't enough time for Pitt's father figure to get involved in sports.
- INDEPENDENT