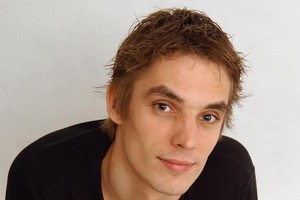 When Cedric Tiberghien takes on the Brahms Second Piano Concerto with Auckland Philharmonia Orchestra on Thursday, he will have been five weeks on the road around Australia and New Zealand. The French pianist enjoys playing in our part of the world.
"Maybe it's an illusion, but I feel that it's easier to communicate with the audiences," he says.
Back in Europe, "it's a little bit heavy", he confides. "I'd like the audiences there to behave with more freedom and not follow protocol so much."
When I last talked to Tiberghien in 2009, on the eve of his APO debut, he was vehement that he did not want to be compartmentalised as a French pianist playing French music.
"For six or seven years, German repertoire was a very important step in my development, to find some personal balance," he says.
"In many ways, it was a matter of my own well-being. I went through a lot of Beethoven, Brahms and Bach - music that keeps your feet on the ground."
His recent collaboration with Alina Ibragimova in the Beethoven Violin and Piano Sonatas was "simply wonderful. Working on a complete cycle like this is like spending a month with a friend just to get to know him a little better.
"You discover some aspects of his personality that you may have ignored. We were able to explore Beethoven's sense of humour. I wasn't aware it was so strong and so important."
Inevitably, Thursday's Brahms looms up in our conversation. "When I was 12, it seemed like an Everest. I dreamed to play it one day, but knew that I would have to wait."
Years later, when he tackled the piece, he discovered "a big difference between the first and second concertos, and not only because the first was written earlier.
"It takes a little bit more time to understand its form. There's this first movement so massive that you almost feel it could all end there. Then, instead of having a break with a beautiful slow movement, there's a scherzo that almost drowns you with its passion."
Tiberghien is an enthusiastic jogger which pays off with the demands of the concerto's Finale.
"It's the same thing. It's so tempting when you set off to give it everything you have, but you have to conserve your energy for later.
"The main thing with this last movement is to be fresh when you start it. It has to be like spring, full of fresh air, green leaves and little birds."
We move to a discussion of the great pianists who have gone before, with Arthur Rubinstein and Emil Gilels vying for top place in his personal pantheon.
Gilels seems to win, a pianist Tiberghien admires for "the quality of his sound, a little like bronze or gold, as well as the way he never sacrifices the music for easy virtuosity.
"Gilels' recording of the Brahms Second Concerto with Eugen Jochum is one of the most beautiful," he says.
"There's such a strength there from the very beginning. He doesn't play it very fast, but the quality of his tone and the way he keeps the energy is amazing."
Yet Tiberghien claims that you need not be influenced by such definitive interpretations when one comes to play a particular work.
"Even though I know Rubinstein's recording of the Chopin Ballades note for note, I never thought of this at all when I recorded these pieces.
"But then," he laughs, "I've no idea how I would play the Goldberg Variations because Glenn Gould has been there before and that really is a hard act to follow."
Performance
What: Auckland Philharmonia Orchestra
Where and when: Auckland Town Hall, Thursday at 8pm