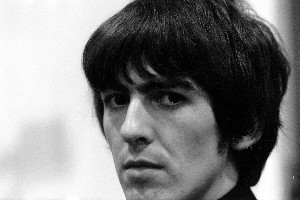 Aside from delivering some dull solo albums, George Harrison has always been regarded as the quiet, spiritual Beatle, the one who changed the most - from being the young guitarist with a lopsided smile to a champion of Indian philosophies and Ravi Shankar - and who was the instigator of the Concert for Bangladesh in '71, the first superstar fundraiser of the rock era. He was also the spiritual seeker who bankrolled Monty Python's Life of Brian by mortgaging his home because he wanted to see it made.
A complex character, but there was even more to Harrison as Martin Scorsese's thorough three-and-a-half-hour documentary Living in the Material World reveals. Cocaine, women, anger, deep resentments...
It's always the quiet ones, huh?
As with his exceptional No Direction Home - the portrait-cum-analysis of Bob Dylan's pivotal decade up to 1966 - Scorsese has access to previously unseen footage, and elicits comments from those closest to his subject.
So here, Ringo Starr (in tears when talking about Harrison's death from cancer in 2001), Paul McCartney, Harrison's second wife Olivia, who suffered his indiscretions, friends from Hamburg days Astrid Kirchherr and Klaus Voorman, a disingenuous Yoko Ono, Eric Idle of the Pythons and Eric Clapton ("We shared the same taste in women," he says, a reference to him falling in love with and subsequently marrying Patti Boyd, the first Mrs Harrison) all speak of Harrison's complex personality, music, life and loves.
The film patiently unpeels its subject - like Dylan, a man who went through more in a decade than most experience in a lifetime - and is respectful without elevating him to sainthood, slightly coy about his shortcomings while acknowledging them.
Harrison - born to a working class family - who discovered rock 'n' roll and the guitar and was younger than McCartney and Lennon, whose personalities he sat between, struggled to get his songs heard in the band and found himself when he discovered Indian music, Hinduism and a lifelong friend in Shankar, all of which allowed him to emerge as his own man outside the shadow of the Beatles.
This much is known to Beatles' aficionados - Scorsese provides detail with excellent footage - but the film also reveals much more.
Harrison had, according to Monty Python film-maker Terry Gilliam, "grace and humour, and a weird kind of angry bitterness about certain things in life". Some of that was the trap of having been a Beatle, yet half the film traces those extraordinary years. This leads naturally into religion via Lennon's comments about the Beatles being more popular than Jesus, and their realisation that money - of which they had plenty - wasn't everything. There followed LSD, then the spiritual search through the giggling Maharishi (a bewildering figure for those who weren't there at the time) and meditation.
"He was totally absorbed by meditation," says Boyd. "He was into something else," says actress Jane Birkin about meeting Harrison in this period.
His post-Beatles years with the Krishna movement, Shankar, separation from Boyd, touring when his voice was shot and reviews were cruel, second marriage, love of motor racing, the Traveling Wilburys, a cancer diagnosis, and the terrible attack in late '99, when an intruder tried to kill him in his home, are all dealt with. The latter changed him.
The man who wrote Art of Dying at 27 now prepared himself spiritually for his own passing. Cancer claimed him soon enough. He was 58 when he died in Los Angeles. The ashes of this war baby from Liverpool, raised a Catholic, were scattered in the Ganges according to Hindu tradition.
Living in the Material World is an insightful biography filled with intimate home movie footage of a man who enjoyed - and sometimes endured - a rare life.
"People always say I'm the Beatle who changed the most," said Harrison in the 70s with that wry smile, "but that's what I see life is about."
* Living in the Material World comes on DVD and Blu-ray (with extra interviews and music features), but also in a box set with the film on Blu-ray and across two DVDs, two frameable photos, a 96-page book of quotes and photos, plus a CD of 10 previously unreleased demos and early takes of some of Harrison's most well-known songs.
-TimeOut