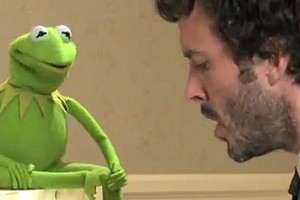 Bret McKenzie says Flight of the Conchords is just like the Muppets.
The Wellington comedian should know - he's just written three songs for the upcoming Muppets movie.
A video for the first song, Life's a Happy Song, hit the net today, and in an interview with the New York Times McKenzie said there were plenty of comparisons to be made between his hit show and the children's TV favourite.
"Conchords is definitely very Muppety," he said. "It's like a mixture of the Muppets and Curb Your Enthusiasm. "
McKenzie, who plays the piano while Kermit sings along with him on the track, said there were plenty of rules he wasn't allowed to break when it came to writing the songs.
He wanted Kermit to sing the line: "I remember when I was just a little piece of felt," but was denied.
"I was told: 'You're not allowed to do that. The Muppets have always existed. You can't break down their world'," McKenzie said.
McKenzie was also denied from having singing penguins in his song as "penguins don't sing".
He knows there is a lot of expectation surrounding the film's soundtrack after the success of Rainbow Connection, from the 1979 Muppet movie.
"So many people would say to me: 'You're doing music for the Muppets? Hmmm. Well, you're not going to write anything as good as Rainbow Connection. And I'd say: 'Yep. You're right.' "
The Muppets is released in New Zealand on December 29.
Check out Life's a Happy Song:
- Herald online