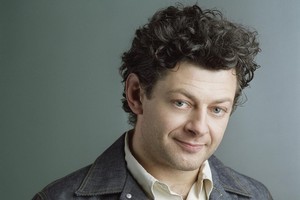 ITEM I: I've seen Tintin. A more substantial review is forthcoming once my 3D memories can be rendered to a 2D page. But it's very good.
True, Snowy the dog doesn't talk. True, you can sort of see the seams where three of Herge's original stories - The Crab with the Golden Claws, The Secret of the Unicorn, and Red Rackham's Treasure - have been sewn together to create (deep breath everyone) The Adventures of Tintin: The Secret of the Unicorn.
But it looks fairly wondrous in its motion-captured delivery under the expert guidance of producer, our own Peter Jackson, who is once again supporting a young and upcoming director ... Steven something.
And that Andy Serkis, huh? He's been motion-captured to play primates great and small in King Kong and Rise of the Planet of the Apes and now, as Captain Haddock, he's got actual lines again. Which turns out to be a mixed blessing.
The film fairly whizzes along in its many action bits but every time Serkis' whiskey-soaked seafarer has another one of his funny turns the movie stops dead in the water under the weight of motion-captured over-acting. Which has surely got to be a first.
Item II: Just over a week to go to the election and still no fun to be had with the campaign songs. National has the Feelers' 2004 ballad Stand Up which Stan Walker recorded a cover of for the All Whites' World Cup campaign last year.
But the Nats' ad guys have opted for the original with the Feelers shrugging off questions of endorsement.
After all, as with their Rugby World Cup ticket campaign cover of Right Here, Right Now, it's sure to be a nice little earner in between another summer beach tour.
Meanwhile, the Maori Party has its own hip-hop reggae sing-along He koha tenei na te roopu Iwi, which has been out for a while too and comes with a lyrical word-count that outstrips many of the party's policy statements. Once again, Winston Peters and New Zealand First have the ringing endorsement of John Rowles, NZ pop's most illustrious superannuitant.
As for the rest, they all seem to be relying on instrumental wallpaper in their campaign ads - stirring hopeful strings for Labour, while the Greens' broadcast campaign suggests they've lost touch with their traditional musical base of wan young folk singers and politely protesting reggae bands.
Item III: There were some deserving winners among the movie categories at last weekend's Aotearoa Film and Television Awards - especially Florian Habicht whose improvised gem Love Story won him best director and best film as well as best editing for Peter O'Donoghue, who had the task of making sense of all that seemingly make-it-up-as-he-goes-along footage Habicht shot on the streets of New York.
But that said Love Story didn't exactly capture the wider public at the local box office despite the reviews, and neither has any of the other cinematic offerings which figured in the awards this year. No, despite Love Story and Roseanne Liang's My Wedding and Other Secrets, it's been a fairly dull old year for New Zealand films in New Zealand.
That those two films were by young but relatively experienced writer-directors telling their own stories might tell us - and possibly the New Zealand Film Commission - something about how good local films get made. And as for next year's local film slate? Well, that Sione's Wedding 2 is sure to disturb the box office like it hasn't been disturbed by a local film this year.
-TimeOut