A column in which Duncan Greive scours the world's charts in the hope of finding, if not the perfect beat, then something worth whistling at least.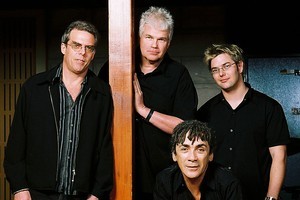 The Locals
I'm excited. From this day forth there will be a top 20 singles and albums chart for New Zealand artists listed alongside the big charts, giving exposure, competition and a sense of proportion to local artists which should have some great spinoffs.
That's because, running as deep as they do, and knowing just how low the barrier for entry can be for even the Top 40 album chart nowadays (I've heard of no 1 albums selling well under 1000 copies in soft weeks), we should see this chart with representation from the likes of Muzai, 833 and all the self-release guys out there fighting the good fight.
They'll be able to put themselves alongside Jonny Love and Donald Reid records and show them up pretty smartly, at the very least.
Singles-wise they picked a curious week to launch, just in the sense that the chart is skewed pretty heavily by the New Zealand Music Awards just passed, so singles like Young Blood, Like Water and Love Love Love have reappeared.
And it's unlikely we'll have two Dragon songs in the top 20 again anytime soon. But we'll check in with this pretty frequently going forward - it's a great addition to the information around sales in this small island nation.
RIANZ Official New Zealand Music Chart:
1. Six60 - Don't Forget Your Roots
2. The Babysitters Circus - Everything's Gonna Be Alright
3. Gin Wigmore - Black Sheep
4. Shapeshifter - Monarch
5. The Naked and Famous - Young Blood
6. Ladi6 - Like Water
7. Stan Walker - Light It Up
8. Avalanche City - Love Love Love
9. Six60 - Only To Be
10. Annah Mac - Girl in Stilettos
The World
It seems fitting to commemorate Texas Governor Rick Perry's two-out-of-three-is-really-bad performance in the most recent Republican debate, during which he failed to remember the name of one of the Government agencies he was planning on shutting down, with a look at the good ol' boy Country Charts that soundtrack his supporters' lives.
The music's superficially appealing, with "Say goodbye to the big city blues" lyrics and beer-drinking pace, but listen to the whole top 10 and you rapidly realise it's a pile of depressing clichés, designed to reinforce prejudices.
Much like Perry's campaign, really.
The Texas Music Chart:
1. Jason Boland & The Stragglers - Mary Ellen's Greenhouse
2. Brandon Rhyder - In the Country
3. Kevin Fowler - That Girl
4. Max Stalling - 6 x 9 Speakers
5. Robert Earl Keen - I Gotta Go
6. Reckless Kelly - Good Luck and True Love
7. Aaron Watson - Fast Cars Slow Kisses
8. Kyle Park - Make or Break Me
9. Rosehill - Dream it All Over Again
1.0 Cody Canada & The Departed - Skyline Radio
The 'net
I know this is borderline a cheat, seeing as this could comfortably be an international chart. But see that song nestled happily at No. 2? Gotye and Kimbra.
I was certain that was a weird Antipodean quirk-hit, albeit one I'd grown to have some affection for. But a few weeks back it was No. 1 in the Netherlands and Belgium, which means that it has topped the charts in every territory it has had a release in.
Could the song burn up the big markets too? And would that make Kimbra a legit international star? Watch this space.
iTunes Euro Top 10 Singles:
1. Skinny Love - Birdy
2. Gotye ft. Kimbra - Somebody That I Used to Know
3. Gers Pardoel - Ik Neem Je Mee
4. Rihanna ft. Calvin Harris - We Found Love
5. Avicii - Levels
6. LMFAO - Sexy and I Know It
7. Lana Del Rey - Video Games
8. David Guetta ft. Usher - Without You
9. BYentl - Maniac in Love
10. Maroon 5 ft. Christina Aguilera - Moves Like Jagger