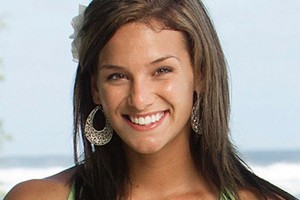 Playboy covergirl Mikayla Wingle has been given the boot from Survivor following a spat with the nephew of infamous rogue Russell Hantz.
Wingle, a 22-year-old Tampa resident who plays Lingerie Football for a living, was eliminated from Survivor: South Pacific following a long-running spat with Brendan Hantz and a poor performance in an immunity challenge.
She was sent to Redemption Island, where she lost her duel against Christine Markoski and was sent home.
Wingle said Hantz, who frequently spoke out about his tribe mate's beauty and campaigned to have her eliminated, had "put a target on my back from the beginning".
"Brandon was a big factor in me being voted out. All I knew is that he was intimidated by me," she told nzherald.co.nz.
"I did nothing. I'm a tomboy. I have 10 times more guy friends than I have girlfriends. If I can shoot hoops all day with the guys I'd rather do that then go shopping. It just amazes me he never got time to learn about me, he jumped the gun and labelled me as something I totally wasn't."
She denied claims she intended to use her looks to win over her tribe mates.
"I am the furthest thing from a flirt. If you asked me to flirt, I wouldn't even know what to do. I might just bat my eyes and smile because that's the only game I'd have. I'm just one of the guys."
She called Hantz a "loose cannon".
"With Brandon, you just never know what's going to happen. You might as well shake a magic eight ball and see what happens."
And she said the show's disgusting roast pig challenge, in which contestants had to tear apart a cooked pig and fill up a bucket without using their hands, was "deliciious".
"After you've been sitting outside, you're about to eat sand you're so hungry. When someone's going to throw a lubed up pig in front of you, covered in barbeque sauce, you can drop it on the ground and spit on it, I'll pick it up the next day and eat it.
"Back home, if we saw one bug in a hamburger, we'd toss it. That was better than a five course meal at a top restaurant. You couldn't spit enough on it."
* Survivor: South Pacific screens on Four ever Wednesday at 8.30pm. nzherald.co.nz will interview every contestant as they are eliminated.
- Herald online