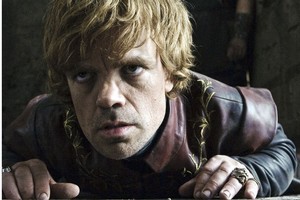 The new Sky channel is like a drug pusher, right now the drugs are free and the drugs are very, very good.
By now you should be obsessed with wolves, white walkers, the Imp, the wall, the coming winter and the mental health of Sean Bean. In other words you should be watching Game of Thrones.
It's one of those shows, a Twin Peaks, a Sopranos a Wire. It's A class.
Season one is screening now and it's not to be missed. First seasons are special, remember True Blood? Still watchable - but series one was the reserve vintage claret that never tasted so good again.
Speaking of first seasons, Soho is also running Sopranos from the beginning.
Tony looks healthy, Meadow is jailbait, Pussy is still alive and Nurse Jackie has long hair.
Once again you can relive the scene when Puss and Paulie walk into a Starbucks only to be appalled at all the abominations that have been subjected to the Italian invention of espresso, where the café dejour is an atrocity called New Zealand Peaberry.
Also unmissable although not quite in the realm of Game of Thrones is Treme, the post-Katrina post-The Wire, New Orleans saga.
There's a few bum notes early on (John Goodman may grate at first) but by episode 3 you'll be hooked. This is written by David Simon after all, the guy who shits diamonds like The Wire and Generation Kill has passed another gem.
Wire fav Bunk (Wendell Pierce) is here too, except in this show he's known as Antoine Batiste and he totes a trombone rather than a service revolver. But he's still Bunk. In fact it's so reminiscent of The Wire at times you expect Clay Davis to turn up for a good sheeeeeeeit.
Fellow Wire star Dominic Pierce (McNulty) has shaken his Baltimore vibe on another new show that's started on Soho. The Hour is also top shelf, a paranoid thriller that might induce flashbacks of Madmen and Spooks though isn't as stylish as the former and is way, way better than the latter.
And make sure you subject yourself to a few sessions of In Treatment. For some reason they're started this at series two but it's still superb viewing, each episode is essentially an appointment with Gabriel Byrne's psychically damaged psychologist Paul Weston and one of five patients.
It's minimal and intense and is based on an multi-award-winning Israeli show called Betipul.
Then there's Boardwalk Empire and Weeds? It's almost too good this Soho. I'm hooked. I'm sure many of you are too. But come the end of the month we'll have to start paying the pusher or going cold turkey.
-nzherald.co.nz