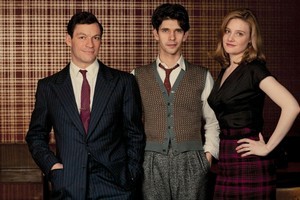 They say you should try before you buy. But, to filch a line from Jerry Maguire, they had me at hello.
Sky's SoHo channel debuted just 18 days ago but I knew weeks before - possibly I knew the day this new channel was announced - that I would be signing up for it, that I would be shelling out yet more money to the pay-TV broadcaster.
My Sky TV bill is already considerable. Indeed it's pretty close to the maximum a subscriber might pay. There is the $45 a month for the "basic" package which, while it includes the likes of the 24-hour news and doco channels and UKTV, is pretty much 70 per cent stuff that's not my thing. On top of that there is the movies package (another $20.70), the Rialto Channel ($11.18), Sky Sport ($25.29) and the $15 added for the privilege of having a MySky HDi box with its recording facility and high-definition tuners. Then on top of all that - and this almost beyond belief, really - there is another $9.99 for the high definition "ticket" - the extra payment that actually lets you watch TV in HD.
Of course it's my choice to pay, and I do. But my total bill - minus a $15 discount I get after signing a deal through Vodafone - is $112.16 a month. Only my electricity bill is more.
Of course Sky is very, very good at finding ways to clip the ticket - or rather clip the ticket over and over and over again. And there is no escaping even a bit of its bill. It offers no discounts, not even to someone who takes all of its core offerings - basic, movies and sport - let alone discounting those who add, on top of those, the My Sky HDi box, the HD "ticket" and one or two of the speciality offerings like the Rugby Channel, Rialto or the Arts Channel. Yes, the company has the monopoly on everything from first-run films to All Black rugby, but I really wonder whether it can get away forever with this way of doing business. I certainly hope not.
And yet I am more than prepared - at least for now - to add another $10 (sorry, $9.99) to the $112.16 a month I'm already paying to add SoHo, once Sky starts charging us for it. The equation that explains this is quite simple: almost all of what is on offer on the free-to-air channels is so utterly crap that I'll fork out pretty much anything to watch "quality" television.
And the SoHo line-up, on debut, is better than every other channel, free-to-view and pay channels, combined. I see no argument with taking a channel that has Game of Thrones, The Killing and Boardwalk Empire (though its first season was free on Prime), not to mention the repeats of terrific shows like The Sopranos, The Wire and Entourage, and excellent and award-winning films like Too Big to Fail and Longford.
Which is not to say that all of this is the best thing I've ever seen on the box. A case point is The Hour (8.30pm, Saturdays, and at other times during the week too), a British-made drama-cum-thriller.
Set in 1956, just as Britain and France drift toward war with Egypt over the Suez Canal, the show is playing out two stories in one: the creation of the BBC's first proper current affairs show, also called "The Hour", and the as-yet-mysterious murders of an academic and a debutante, possibly involving MI6, the Prime Minister's office and the House of Lords.
The former's narrative thread plays with all sorts of subjects that continue to shadow TV news to this day: an over-reliance on trivia dressed as news, putting someone in front of camera simply because they're good-looking, and the struggle by women to be taken seriously in a male-dominated workplace.
The murder mystery thread - if a tad hard to follow in the first episode - promises to bring a little bit of John le Carre-style Cold War tension to the drama which, as we await the new film adaption of le Carre's Tinker Tailor Soldier Spy, will do just nicely.
But there is pleasure to be had in just looking. The show looks a million bucks - indeed its period design, much like Mad Men, is so much in-period it is in danger of drifting into over-designed. But its main weakness is its three central characters who, for the moment, are really just archetypes: Freddy, the gutsy, stroppy young reporter who knows a real story when he sees it (played rather peevishly by Ben Whishaw); Hector, the dim but good-looking TV anchor (Dominic West); and Bel, the ambitious but brittle young producer (Romola Garai).
There's smugness to the script too, though this maybe due to Whishaw's oddly irritating performance. And, much like everybody's favourite Brit-drama of the moment, Downton Abbey, there is a certain stiff staginess to proceedings.
Yet two episodes in, I would hazard a guess that The Hour is worth more, ahem, time. I'm just not convinced enough by it yet to call it great.
What I do know is that I'll be happy to start paying for it, and the rest of SoHo, from next month. Anything to escape the dross.
-TimeOut