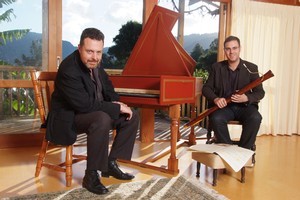 Musica Sacra's Music from Madrid and Toledo on Sunday must go down as one of the chamber choir's most enterprising presentations.
A trip to Spain by music director Indra Hughes, combined with the 400th anniversary of the death of Tomas Luis de Victoria, brought forth an impressive pair of Masses, interspersed with various instrumental and choral items.
These extras that punctuated both Victoria's Missa Pro Victoria and Morales' Missa Mille Regretz had sometimes been artfully curated to complement the larger surrounding work.
Hughes, with his customary wit and affability, warned us that Victoria plays with his audiences in a rather sly way and that we should be prepared for some rhythmic deception in the Missa Pro Victoria. And his singers securely negotiated the shifting nine-voice textures, getting into the spirit of it all for a dancing triple-metre section towards the end of the Gloria.
The choir created a warm sonority for a score that demands broad, confident strokes, with Hughes drawing out a massive, almost theatrical swell on closing chords.
Passing insecurities, such as nervous entries in the Agnus Dei, were more than atoned for by a rich, expansive Dona nobis pacem.
The Missa Mille Regretz was a six-voice affair; more compact in construction, it was rendered with a compelling emotionalism. A more assertive tenor line might have better higlighted the Mille Regretz theme upon which the Mass is based but the overall sound was full and vibrant. Hosannas pealed with joy, and there was some particularly beautiful ensemble when just three vocal lines arose out of the Agnus Dei.
The most dramatic impact came from the basses, their often striding contribution subtly shaded in by Ben Hoadley's dulcian.
Hoadley in fact was the star of the evening in his various solo turns. With enthusiastic harpsichord from Hughes, he presented bold, flourish-laden music by Ortiz and the tortuously-named Fray Bartolome de Selma y Salaverde.
Ortiz's musical ponderings on the Mille Regretz theme put the dulcian in the spotlight without its keyboard partner; Hoadley's artistry, combined with the instrument's plaintive timbre and occasional key clatter, made for a most poignant and evocative interlude.