11.22.63 by Stephen King
Hodder & Stoughton $39.99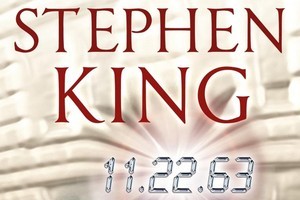 When you are Stephen King, you get to use numerical date codes as titles. Because who's going to stop you? The date sitting athwart the cover of the latest King tome is that of one of the 20th century's indelible black spots - the assassination of John F. Kennedy.
King's conceit is that perhaps it isn't so indelible after all. This - and I'm giving nothing away that you wouldn't learn very early on - is a time travel novel: one man versus history.
The man is Jake Epping, and he's a chatty sort. He's also a pretty likeable sort, which is good, because King leaves a great deal resting on his shoulders. There are some neat bits of plotting buried in this book, but I say "buried" advisedly.
Jake, a newly divorced high school teacher, stumbles across a door to 1959. Deciding, for reasons which King would quite like us not to think about too hard, that saving JFK will do more good than any other goal he could ever achieve in his life, Jake steps through into the past.
At which point he has four years of waiting around to do.
King has some plausible enough logic to throw at us regarding Jake's decision not to simply track down Lee Harvey Oswald and do away with him in 1959, partly to do with the moral and practical complexities buried in the phrase "do away with", and partly to do with the celebrated possibility that Oswald was not acting alone. But his main reason for wanting Jake to live four years in the past is that a time travel story offers enormous wish fulfilment mileage. Jake, an ordinary, somewhat lonely middle-aged guy, is suddenly The Man Who Knows The Future.
He can dish out the best advice anyone he meets will ever hear. He can change lives. He does. He also falls in love.
The remarkable thing about this book, which consists for much of its length simply of Jake living day-to-day in a different decade, is how pleasant King manages to make the process of turning the pages.
It reminds me of mid-period Robert Heinlein, who also went in for male first-person narrators much given to unconvincing self-deprecation and who was also somewhat inclined to lecture you on the nature of society, morality, and other abstract nouns. He also had, these qualities notwithstanding, the gift of irresistible narrative gravity.
This is a nostalgia trip with way too much of the sentimental and not nearly enough suspense, and if you think too hard about the time travel logic it rests on - which I can never help doing - it doesn't make a great deal of sense. But let's not pretend I didn't enjoy it. King is, as Jake might put it, readable as hell.
David Larsen is an Auckland reviewer.