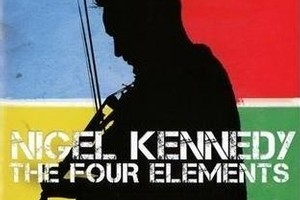 Now in his mid-50s, violinist Nigel Kennedy seems determined to be a somewhat aged enfant horrible of music.
Memories of his Elgarian debut 27 years ago seem to hail from another epoch, as Nige cooks up yet another excruciation for whom one can only imagine are ardent music haters. Kennedy might describe The Four Elements as Vivaldi put to an electro beat but I suspect that Antonio, the red-headed priest, would not welcome this acknowledgement. There's so much that's nasty and noisy, from an Overture that limps from ersatz minimalism through bland wallpaper music to a ceilidh funk with the Beatles' Norwegian Wood, one uncredited rock classic stirred into the mix.
With The Four Elements, we have the additional horror of vocalists and lyrics. Words like "Earth is the mother of us all and source of every birth/Her creatures great or small are all of equal worth" are squirm-inducing enough, without the flat vocals of Xantone Blacq. After almost an hour of this crossover crudity, Kennedy's cheeky encore (It's Plucking Elemental) is almost a relief.
Andre Rieu's And the Waltz Goes On dishes up Vienna-flavoured bonbons for an audience unaware of the elegance and style of the great Strauss tradition.
An eviscerated Valse Triste is best avoided; a flabby waltz through Are You Lonesome Tonight could be a grim last dance at Graceland. Some of us worried when Sir Anthony Hopkins added Hannibal Lecter to his gallery of characters. Alas, he has sunk lower, penning a waltz for his friend Andre titled Dreaming of New Zealand. Floating over what sounds like a mash of Now Is The Hour and O Mio Babbino Caro, Hayley Westenra's anodyne, choirgirl vocalising is all that Marjorie Rieu's trite lyrics deserve.
Nigel Kennedy, The Four Elements (Sony)
Stars: 2/5
Andre Rieu, And the Waltz Goes On (Polydor)
Stars: 0/5
Verdict: Two disasters in the crossover lane