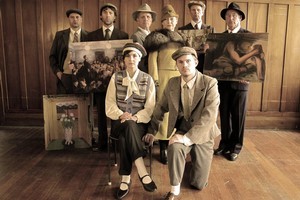 Playwright Lee Hall charmed the world with Billy Elliot, the story of a coal miner's son from the north of England who decides - against his strict father's wishes - to be a ballet dancer.
Now Hall's more recent award-winning play The Pitmen Painters is coming to Auckland, telling an equally inspiring but true-life tale of a group of English miners whose after-work art classes revealed a wealth of hidden artistic talent.
Overnight, the amateur artists were propelled from the mines of northeast England to the intellectual art world of the 1930s. They became known as the Ashington Group and their experiences and achievements led to countless questions about the relationship between social class and art and the latter's transformative power.
First performed at the Live Theatre in Newcastle upon Tyne in 2007, The Pitmen Painters transferred to London's National Theatre then to Broadway in New York. It continues to tour Britain and the United States.
Auckland actor Edward Newborn saw the National Theatre production in 2009 and knew instantly he wanted to bring it home because it was inspirational, provocative and humorous.
It's a description director Paul Gittins agrees with wholeheartedly and a story with which he felt a strong personal affinity. Gittins' mother comes from Chorley, Lancashire, which sits on the edge of the Lancashire coalfield, and his grandfather, great uncles and uncles were miners.
One uncle, Elon, painted in his spare time - mainly reproductions of famous paintings - and the Gittins' Auckland home has a couple of his works hanging on the walls.
"While The Pitmen Painters certainly isn't a heavy treatise on art, it does raise interesting questions about art and its transformative power," he says. "It gets you thinking about who owns art? Who can make art and who can have an opinion on it? Of course, the answers are that art is for everyone. Most people have some sort of art so it's interesting to think about the connection we have with it.
"I think it [our need for art] is probably something deeper than we imagine; something in our DNA and linked with our need to have an outlet for natural, human creative impulses."
More than 100 images will be projected on a wall behind the stage so audiences can see the paintings the miners are looking at, as they visit some of Britain's most famous galleries, or work on art themselves.
The Pitmen Painters focuses most closely on miner-artist Oliver Kilburn, who attracted the attention of a would-be wealthy patron keen to take him under her wing. He must choose between his friends and working-class life or fame and success. It allows Hall to consider matters such as friendship and community and how much a person may be willing to relinquish for fame and fortune.
Working with producers (potent pause) Productions, Gittins has recruited a cast of experienced actors which includes Elizabeth Hawthorne, Joseph Rye, Stephen Papps, Newborn, Geoff Snell, Calum Gittins and and Josephine Stewart-Tewhiu.
John Glass, who won a Dunedin Theatre Award for his portrayal of Oliver Kilburn in the Fortune Theatre's production last year, reprises his role - but he's doing so this time with a greater degree of understanding about the lives of the pitmen painters.
Last year, Glass got the opportunity to travel to Britain and decided to go on a "pitmen pilgrimage" to the theatre where the play was devised and first performed and then to Ashington itself. He says he was treated like royalty and given a special tour of what's left of the Ashington mines as well as seeing for himself the pitmen painters' works.
"I saw the cage the men would go down into the mine in. It was the beginning of winter; there was snow on the ground. Seeing the reality of the hardship of the mining environment as the snow fell brought me face to face with how tough their life was and also what physical strength they must have had."
Performance
What: The Pitmen Painters
Where & When: Loft, Q Theatre: November 16-December 10