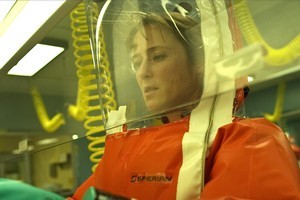 Many a horror film has a man with odd teeth and strange accent. Contagion has Jude Law. He's conspiracy theory blogger Alan Krumwiede. He's got a wonky tooth interrupting his film star smile and his character's vaguely Australian tones might be inspired by Wikileaks guy Julian Assange.
Though he doesn't take up much screentime, he's also a jarring note in this riveting, menacing movie, which, with its depiction of a global pandemic from a new cross-species virus is too frighteningly plausible to pass as horror or sci-fi.
But Law's oddball does pass for light relief in this clincally serious real-word medical thriller which shows director Steven Soderbergh's abilities to marshal multiple stars and storylines as he did in drug-war ensemble drama Traffic.
It doesn't lack for gallows humour, but Contagion mostly doesn't let you off the hook with its insistent docudrama approach. Some of it does feels familiar, like the inevitable National Guard roadblocks, the looting and violence that quickly result from the rising panic.
There are a few touches of sentimentality, mainly to do with Matt Damon's stay-at-home dad. He's the everyman in all this; his wife Gwyneth Paltrow, having returned to the Midwest from a Hong Kong business trip feeling like crap, is soon to be toe-tagged (and worse, care of the film's most grisly scene) as the pandemic's "Patient Zero".
Soderbergh is his own cinematographer here, capturing telling details of how the bug spreads. Combined with taut editing, a largely exposition-free script and a sinewy musical score, this film runs with a sense of urgency that mirrors the rapid spread of both the virus and the internet-fanned panic that follows. That momentum is almost enough to distract from the Krumwiede sideshow and another puzzling story strand - that of Marion Cotillard's epidemiologist, an apparently lone WHO official sent to China to trace the origins of the virus.
Still, Contagion is otherwise plausible and compelling.
It's at is best in the scenes involving wise but fallible US Centre for Disease Control boss Laurence Fishburne, his driven in-the-field deputy Kate Winslet and tireless backroom scientist Jennifer Ehle, whose standout performance is sure to keep in her lab coat-required roles for years to come.
They help make this both an engaging primer in epidemiology and a when-those-about-you-are-losing-their-heads character study.
Contagion is not the first film to break out the biohazard suits and the bodybags for cautionary tale entertainment.
But it's possibly the first to make you wish the zombies would actually turn up to reduce its nightmare potential.
Stars: 3.5/5
Cast: Laurence Fishburne, Matt Damon, Jude Law, Gwyneth Paltrow
Director: Steven Soderbergh
Rating: M (offensive language)
Running time: 106 mins
Verdict: Global virus thriller tests positive
-TimeOut