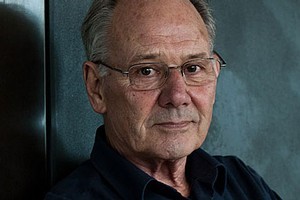 Alex Miller was watching the squirrels from a bench in London's Holland Park when he first heard the opening words to his latest novel, Autumn Laing: "They are all dead, and I am old and skeleton-gaunt."
What had started out to be a novel about renowned Australian artist Sidney Nolan, in whom Miller has a longstanding interest, suddenly changed direction.
Miller had originally based Autumn's character on Nolan's lover and supporter, arts patron Sunday Reed, who took her own life in December 1981 at the age of 76, 10 days after the death of her husband John.
But what would have happened if such a character had lived another decade alone and decided to tell her story?
That day in Holland Park, it struck Miller that the novel could be written "in the voice of this old woman who had nothing left to lose by being utterly honest about herself and her astonishing life. I realised that she was the sole survivor of 'the old group' - with the exception of course of Edith Black, whose persistence it is that triggers Autumn's need to confess - to shrive her soul clean before she dies."
Here the two-time winner of Australia's prestigious Miles Franklin literary award talks about Sidney Nolan, Sunday Reed, and his lifelong love of art and landscape.
Q: Tell us briefly about Sidney Nolan's influence on your life and work.
A: It was Sidney Nolan's hauntingly suggestive and utterly mysterious black and white photographs of the Australian outback that brought me to Australia alone when I was sixteen. I didn't know who Sidney Nolan was when I was a boy and first saw his photos, but his 'eye' for the landscape through the camera's lens was the cause of the most important decision of my life. My lifetime loves have been the Australian landscape and Australian art, both of which I've written about extensively in previous novels. In Autumn Laing these two great influences come together for the first time in one novel.
Q: Though Pat Donlon and Autumn Laing are fictional characters, their story has many parallels with that of Sidney Nolan and Sunday Reed. How did writing this novel affect your understanding of Sidney and Sunday, and their work?
A: Probably the recognition that most deepened my appreciation for Nolan's art was to see how important, indeed how elemental, was his refusal of the European training offered by Australian art schools and his determination to find a means of expression, no matter how nearly impossible this seemed to him, that did not depend on the precedence of European skills. I greatly admire Nolan's intuitive compulsion to "go it alone". Going it alone has been my own way and I recognized in Nolan the weight of this.
Q: In his quest to be recognised as an artist, Pat Donlon experiences all-consuming passion, obsession and self-doubt. How much of this angst is informed by your personal experience as a writer?
A: A great deal of it. One can't quantify these things.
Q: Pat's faith in himself is restored by Autumn's recognition of him as an authentic artist despite his refusal to conform to the European style that was dominant at the time. Is there someone who played such an inspirational or influential role in your writing career?
A: [Miller's friend] Max Blatt's confidence that I would write great literature (his term not mine) one day gave me the faith to continue at a time when I was in despair. My debt to Max will remain with me till the end. He was my greatest influence.
Q: I feel as if I should have a book of Australian art on the table beside me while I'm reading. Were there any works that influenced you while you were writing?
A: In 1961 Thames and Hudson published the first great illustrated monograph on Nolan's work. At the time I had little money and the book was very expensive, but nevertheless I purchased a copy and sent it to my father. I believed Nolan's art would reveal more about Australia to my father than my letters ever could. After my father's death my mother returned the book to me. It is often open on my desk in my study. Nolan is an artist whose [work] improves for the looking. There is no end to what he saw.
Q: Please share your favourite Australian works of art.
A: I have a great love of Australian art besides my admiration for Nolan's work. The contemporary artist who probably offers me more than any other is Rick Amor, an artist of the Australian urban landscape, his work is imbued with a rare quality of mystery and human presence.
Q: Have you had any feedback from people who knew Sid, Sunday, or other members of the Heide Circle? How has the novel been received by them?
A: My first speaking engagement after the publication of Autumn Laing was at Corrie Perkins' bookshop in Malvern. A member of the audience that evening announced towards the end of my talk that she was Sunday Reed's niece. I had said to her that I thought she might have something of Autumn in her character. "Not me," she replied, rather in Autumn's voice I thought, "but my mother. Your Autumn is a true Baillieu." We then embraced and laughed together. It was a wonderfully confirming moment to have my character endorsed by a member of the family who had given birth to the model of her inspiration.
Q: Which books are on your summer reading list ?
A: I am re-reading Sebastian Barry's novels and Ovid's poems of exile, Tristia & The Black Sea Letters.
- Herald online