DJ Shadow's 1996 debut still looms large, but the Californian producer's restless musical adventurism means that he continues to dodge expectations on his latest effort, The Less You Know, the Better.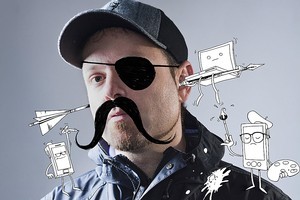 Like The Stone Roses' The Second Coming, Massive Attack's Protection and The Strokes' Room on Fire, when DJ Shadow's second LP The Private Press hit shelves six years after his debut Endtroducing....., it was opined in some corners of the music press that Josh Davis was afflicted by DSAS - the clunky English acronym for 'Difficult Second Album Syndrome', supposedly induced by the intolerable weight of expectation which follows a landmark debut.
Of course it was true, in so much as The Private Press didn't quite reach the epochal heights of its predecessor, but misleading in that it failed to acknowledge the significant body of work which came before his debut album, or the bits and pieces that followed.
It was as if his early Mo' Wax releases, not to mention his work in establishing the Solesides label, were irrelevant footnotes that detracted from an easy alternative narrative.
Even now, Davis is a little bemused that Endtroducing..... is still being used as the starting point (and in some cases the end point) of his career. "Endtroducing..... was a stop on a really long journey, and I always saw my career as a lifelong pursuit, not a, 'Oh, if I can just get this one hit then I can retire somewhere'. You know, that's not what motivates me. What motivates me is challenging myself to say new things at any given time and to make music that's tasteful and fills some kind of void."
That explorative attitude has meant Davis has often refused to give fans what they want, eschewing any one template and frequently jumping headfirst into new territory. For fans of the moody atmospherics of Endtroducing....., his next two albums were confounding.
"My relationship with old material is healthier now than it has been in a long time," Shadow says. "The Outsider had a lot to do with that, because it was intended to clear the dead wood in a way - away from my fan base, people who were expecting another Endtroducing..... and all that kind of stuff. That album was a provocation and I really felt like I needed to do it before I could go anywhere else."
That was five years ago, but snap to the present and the release of The Less You Know, the Better, and the Silicon Valley resident admits he was in a much more relaxed state of mind when putting together his latest album.
"When it came time to sit down on this one, I didn't feel any need to speak indirectly to anybody. I was just alone with my music and making music for the love of it without any sense of, 'Where does this fit in?'"
Although the bulk of the album was recorded an hour and a half away from his home in a nearby California wine region, Davis admits it wasn't quite the picturesque scenario that immediately comes to mind.
"It wasn't like going to the South of France, if you know what I mean. It was dark and it was a bit lonely, but it was beautiful and more importantly it was removed. It was just me working with very little distraction."
That immersion has resulted in some beautifully lonely moments on the record, along with a host of what he calls "rural elements" plus Shadow's restless sonic exploration.
Hyphy, heavy hardcore riffs and post-punk have all found their way onto the same album.
"That's one of the things that I'm always trying to push with my records. Why should I close myself to this influence or that influence?"

And despite the wishes of some fans, it seems that's the way it's going to continue.
"I understand to some people it's bigger than that," says Davis, once again referring to that record, "but I can't let that affect my own muse and my own pursuit and my own learning. I don't have any interest in spinning my wheels."
* DJ Shadow's The Less You Know, the Better is out now on Verve/Universal.