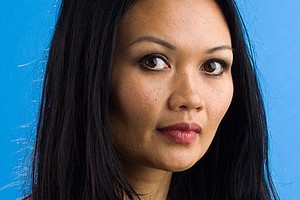 One song into her performance at the Kings Arms, Bic Runga mentions that she's never before performed on this stage, which is interesting, as much like her, the venue is something of an icon.
Perhaps it's fitting then, that on the cusp of releasing her much-anticipated fourth studio album (Belle), and with a national acoustic church tour to come, she's performing here (along with a show in Wellington) with her new "band" - partner Kody Nielson on drums and fellow ex-Mint Chick Mike Logie on bass, to showcase new material with old favourites, and possibly also to iron out some wrinkles in their set.
It's been six years since her last public solo performance, so there's probably a bit of self-imposed pressure, and a few fans waiting with bated breath.
It's understandable, then, to see palpable nerves on stage. Runga declares as much after opening with a gorgeous solo acoustic version of When I See You Smile.
"Sorry, I'm really nervous, that was uncomfortable".
It's not uncomfortable for the audience actually - Runga has the voice of an angel even when she occasionally hits an odd note, and she's so guileless and charming you could never hold it against her, though you can tell she is perhaps distracted by getting the guitar chords right. It's been an age since she's performed these songs, after all.
She quickly follows with another solo version of an old classic, Something Good, before welcoming Nielson and Logie onto stage for Belle's title track with Nielson on the organ and Logie (playing left handed) on a classic Hofner bass.
They paint the perfect picture for the track, which is actually a song from a 60s French TV show, which young boy Sebastian sings to his dog Belle (yes, the same characters which inspired the name of Scottish indie outfit Belle and Sebastian).
Nielson and Logie are smartly attired in black shirts, pants and ties, and Runga channels a delightfully childlike French naivete in her sparkly dark dress with white bow collar.
"A writer from Metro said my hair made me look like a cocker spaniel" she laughs, "but I quite like my hair".
From there they dive straight into another new track Everything Is Beautiful And New, a lovely intense, austere, baroque pop track, on which you can hear Nielson's influence.
Then they slide into a passage of classic hits, including Winning Arrow, Get Some Sleep and Beautiful Collision, which all sound sprightly and intriguing in their well-balanced three piece format, Kody's unconventional drumming with lots of linear beats, and his beautiful vocal harmonies provide delightful new twists.
A slight vibe of uncertainty does remain, indicative of their unfamiliarity with these old songs in a new format, until they break into a deeply groovy version of Precious Things, which is just about perfect.
And when they get to the next new track - Tiny Little Piece Of My Heart- co-written by Nielson and his brother Ruban, you can see the confidence lift. The short and sweet Beatles-esque 60s pop song with its scornful lyrics is a highlight, and the audience love Runga's delivery.
She jumps back on the organ and whips out a harmonica for Listening for the Weather, before inviting special guest, Chris Nielson (Kody's father) on stage to play trumpet on the strident This Girl's Prepared For War, a new track co-written with James Milne (aka Lawrence Arabia), who's fingerprints are all over the trippy 70s psychedelia, floating vocals and brass riffs.
Devil On Tambourine follows (though no one is actually on tambourine), another new track co-written with Nielson, showing off their very elegant vocal harmonies and some Spanish influenced guitar riffs.
Runga clearly enjoys it, saying: "That was quite a weird song eh?"
After she spooks herself out with a rendition of Bursting Through off her very first album, it's time to "pull out the big guns" as one punter whispers, and perform an engaging Sway.
She opts not to go off stage before the encore, and wraps things up with an energetic version of chirpy new single Hello Hello, before final solo acoustic number, the always heartbreaking Drive . There's a reason why it's in the Great New Zealand Songbook.
It was a treat to hear such classics, but it was the new tracks that actually impressed most - there's a certain conviction and daring to them that seems exciting. I hope we hear them more.
It's made for a enchanting evening, not exactly polished, but still magical.
* Listen to Bic Runga's new album Belle here.
What: Bic Runga
Where: The Kings Arms, Auckland
When: Wednesday, November 9
- TimeOut