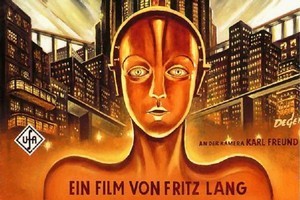 MUSIC
There are gigs aplenty this week, with highlights from the international contingent being Brit trip-hoppers Portishead, bringing their reformed line-up plus new band to Vector Arena to perform tracks from their three albums tonight; and Grammy-winning laid-back pop sensation Jason Mraz performing at the Civic on Tuesday.
We've also got local supergroup Fly My Pretties winging into Auckland to perform three nights at the Mercury Theatre from tonight until to Saturday, presenting one act of new material, and a second act of old faves.
If you're feeling charitable, Rock for Starship at Juice Bar on Friday night will have Blam Blam Blam and Andrew Fagan among others performing to raise funds. And Flying Nun's 30th birthday celebrations continue with a Kings Arms show on Saturday from HDU and The Verlaines.
MOVIES
This silent movie will never have sounded so good when the NZSO arrive to perform a live soundtrack to a screening of gargantuan 1927 German expressionist film Metropolis on Saturday evening at 8pm in the Town Hall.
The gloriously restored print of Fritz Lang's film, will be enhanced by Gottfried Huppertz's original orchestral score, the rich Wagnerian language of his music providing the perfect partner to Lang's dystopian vision of a city of wealth and want in the year 2026.
Also opening this week is the Steven Soderbergh-directed Contagion, an action-thriller about the threat posed by a deadly disease with an all-star cast. And for something a little less terrifying, Beginners is a heartfelt comedy-drama about a young man rocked when his elderly father reveals that he has terminal cancer, and a young male lover.
TV
Fans of The Wire will be pleased to see that the new drama series from its creators, Treme (pronounced tre-may), begins screening on SoHo this week (Thursday, 9.30pm). In fact, everyone should be pleased really - it's one of the best darn shows to come out in a while. Set in New Orleans three months after Hurricane Katrina, Treme is steeped in soul and music, and full of unique cultural references. It gently prods at the cause of the disaster, while also following this community as they find ways to carry on, regardless of the destruction.
And returning to SoHo this week is Dexter, kicking off season six, on Tuesday at 8.30pm. There's also a one-hour special on the final of the Smokefreerockquest, which was held at Claudelands Arena in September, on Four, Saturday at 5pm.
OR...
It might sound like a bit of an oxymoron, but Art in the Dark, an event that showcases over 30 works of light art, installations and creative performances, returns to Ponsonby's Western Park this weekend between 8pm and midnight on Friday and Saturday. Free.
-TimeOut