A new doco tracks two mates trying to make it as sporting professionals. Caris Bizzaca reports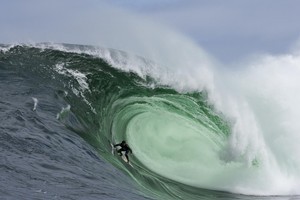 Bra Boys director Macario De Souza's may have grown up surfing at Sydney's Maroubra Beach, but he's not keen on tackling monster waves of up to 60ft (18.2m).
The stars of his latest documentary Fighting Fear, childhood friends Mark Mathews and Richie "Vas" Vaculik, feel a little differently though.
As a Big Wave Pro Surfer, Mathews admits he's surfed waves that, at their biggest, were 50ft-60ft.
He and his best mate Vaculik, who's a surfer and mixed martial arts (MMA) fighter, make it a point to track down the biggest swell in the world.
But De Souza, who grew up with both of them in Maroubra, said he's happy just sitting in the boat and filming on those trips.
"I'm the wuss behind the camera," he says. "I've grown up surfing, but it was always just a pastime ... so I don't surf anything bigger than four or five foot, to be honest."
Fighting Fear, is narrated by actor Joel Edgerton and follows the adrenaline-seeking duo during their real-life struggles as they strive to make it as sporting professionals.
De Souza came up with the idea after he finished Bra Boys and realised he had a lot of "powerful footage" of his two friends.
It included moments that he said have become key parts in the film, including when Vaculik was arrested after a brawl on the Gold Coast, and the day after Mathews got glassed. De Souza said the three of them all lived through a pretty heavy phase of binge-drinking and were lucky to come out the other side "pretty good".
"In hindsight we were very lucky, and a lot of our friends weren't so lucky, so I felt that if we could get Mark and Richie to go on record and warts and all talk about all this kind of stuff, it [would] help some of the other guys and kids all over the world," he says.
"But then there was definitely times where I had to keep the camera rolling when they were in distress and that was kind of tough, and even just asking them really personal questions really got awkward at times."
De Souza said there was a fine line that he had to walk between being a director and their friend.
On the flip side, Mathews said it was difficult having a camera following him for over two years, particularly in the low points.
Meanwhile, Vaculik said it was tough having to look back at some of his darker days, like when he had to face court in 2008 charged with grievous bodily harm, after allegedly bashing a man on the Gold Coast.
He ended up walking free but said it "wasn't great to relive".
"It's something I'm not proud of, it happened, but I look back at it and think that it's really helped shape where I am today," he says.
Mathews said the film deals with how he and Vaculik overcame the low points in their life through their friendship.
"It's a different story to Bra Boys ... this one's about Richie and I and it's really about friendship and how having that one special person, that one close mate, can make or break your life."
LOWDOWN
What: Fighting Fear, the documentary follow-up to Bra Boys, about a group of hard-partying Sydney surfers
When: Opens at cinemas today