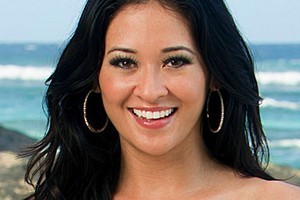 Survivor's latest victim says self-confessed geek John Cochrane is one of the game's best and most underrated players.
Elyse Umemoto became the latest victim of Survivor: South Pacific after being "totally, genuinely" blindsided out of the game by her tribe Savaii.
She was sent to Redemption Island, where she lost her duel against Christine Markoski and was sent home.
Her fellow tribe mates blamed Umemoto's close relationship with returning Survivor player Oscar "Ozzy" Lusth for her elimination.
But Umemoto, a 22-year-old beauty queen and dancer from Tampa, told nzherald.co.nz she and Lusth were just friends.
"I know that sounds like a cop out answer and celebrities use it for people when they're more than friends," she said.
"I like to think of us at homies. If we were at a restaurant together, he wouldn't just hold the door open for me, he'd grab me a beer."
She admitted she should have toned down their antics - especially when they were caught sharing a hammock together - as the tribe saw them as a future threat to challenge for the show's $1 million prize.
"The one thing I would change is to make that relationship completely invisible ... Ozzy was a provider, he built the fire, he's an inspiration. They weren't going to get rid of him. I was the logical solution."
Umemoto picked Cochrane - an unlikely player who had thwarted elimination several times - to go far in the game.
"I'm not a betting person but if I was there will be some kind of surprise down the road and people will be kicking themselves for not giving him as much credit as he deserves," she said.
"He's playing a strategic game, he's really quirky and he's got a funny sense of humour. The mind game is something he's mastered and kept to himself. He deserves a lot of credit and he's probably got some tricks up his sleeve"
She was "bummed" about leaving her bikini behind.
"You never know when you're going to go so you do pack all of your things. But this time it didn't even cross my mind to walk past the clothesline and I'd left my swimsuit. I worked really hard to find a swimsuit just for this occasion.
"My darn swimsuit is probably exiled to the South Pacific forever."
Survivor: South Pacific screens on Four every Wednesday night at 8.30pm.
* nzherald.co.nz will interview every Survivor contestant as they are eliminated.