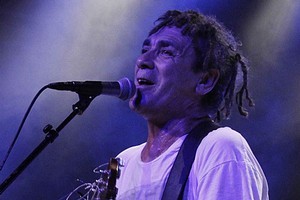 A packed Powerstation saluted three New Zealand groups with roots in the '70s on Saturday. Their offstage antics in that heady decade have been well documented, and two of them at least safely made it to the future.
Acid rockers Ticket brought the rock. No strangers to the excesses of the time, the then-hirsute rockers were far out, maaan, when they recorded a phenomenally lysergic debut Awake in 1971.
Cut 39 years to the future and they are looking remarkably fresh. When he's prowling the stage, it's hard to believe frantic frontman Trevor Tombleson is 60-something, swinging tambourines and flicking frisbees.
Local legend Eddie Hansen's heavy Hendrix-influenced guitar was in full force. Opening with Awake, their set was a glimpse of a Ticket show three decades earlier.
Classic hit Country High with its breezy hook was a favourite, and the full-tilt rock-funk boogie of Highway of Love closed the set.
National treasure Captain Brazier took the Sailors to the stage with swagger, bad boy jive and between-song banter that sometimes reached William Shatner proportions.
Navigating through a Hello Sailor history lesson, the band was in fine fettle. Comparisons of Dave McArtney to Keith Richards are unavoidable, except McArtney is in much better nick. Harry Lyon held it down on his side and Ticket's rhythm section lay down a groove that allowed the Braz to bust some impressive moves.
Still a going concern, they dropped new material into the set, but it was the 'hits' the juiced-up crowd were waiting for. Taking to the choruses with vigour on Billy Bold (with a new anti-John Key line), Latin Lover and set-closer, Blue Lady, the woozy crowd was clearly happy.
Dragon. Heavily covered in the media last week, the historical aspect of Dragon being one-time contemporaries of both groups did not go unnoticed.
Fronted by Mark Williams, local '70s star in his own right, they delivered a slick and excellent sounding show which pleased the predominantly Caucasian crowd, who were clearly old enough.
What: Hello Sailor, Dragon & Ticket
Where: The Powerstation, Auckland
When: Saturday, November 5