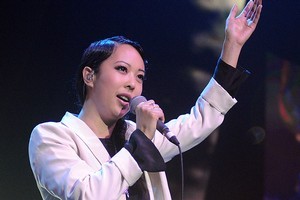 Playing a show at Auckland's Town Hall is a pretty big statement for a young local band, but The Naked and Famous worked that stage with all the passion and torment and joy that their songs deserve on Friday night.
It was the first show they'd played here since the Big Day Out in January, and having won five NZ Music Awards on Thursday evening, they had something to celebrate - or perhaps prove.
Wellingtonian four piece Junica, fronted by Nik Brinkman, warmed up the diverse crowd nicely with their dreamy soundscapes, grand melodies, and tight musicianship.
The drumming particularly deserves a special mention, and Living In My House, their catchy duet on which Ladyhawke is guest vocalist (though not present on the evening), had a number of punters throwing their hands up.
The Naked and Famous emerged through the smoke and lights to open with the huge, industrial, wall of sound track A Wolf In Geeks Clothing.
The large backdrop screen was admittedly obscuring the beautiful Town Hall organ, but they more than made up for it with a bunch of surreal visual imagery that suited the band much better - modern, inventive, emotive.
There were crazy blinking eyes, twinkling stars, and bits from their uber-cool videos - the freaky hockey masks from Punching In A Dream and the perfectly edited snapping actions of hands, feet and various objects from All Of This.
The real pleasure in their performance was in the beautiful dynamic range and subtleties which the band can produce. Leaping between jagged edged guitar, fuzzed out bass, razor sharp drumming and electronic beds that overpower the brain (like on Spank, or EP track Dadada), before delicate synth melodies or a cutting vocal line kicks through, they know how to make the most of space in their music, and have the ability to hold an audience on a string as they build through a song.
They've also got an absolute ace up their sleeve in the vocal interplay between front man and woman Thom Powers and Alisa Xayalith, who can blend, swap and play off each other like prisms of light.
When they did that on Frayed, it was an absolute highlight, as was the youthful singalong of Girls Like You. Incorporating dreamy covers of Ribbons of Light by Kids of 88 and Crazy? Yes! Dumb? No! by The Mint Chicks added the odd surprise as they powered through most of the album tracks from Passive Me Aggressive You, along with several favourites from the early EPs, including the exuberant and precocious Birds.
Visually and aurally they more than filled the Town Hall stage, clearly comfortable in their grand surrounds, but also seemingly humbled and genuinely thankful for the almost full house.
They've come a long way since their early days, and though they still don't talk much on stage they've become true performers, dragging you through every moment of desperation and bliss as they throw themselves around the stage.
By the time they finished the show with Young Blood they had the audience throwing themselves around uncontrollably too.
What: The Naked and Famous
Where: Auckland Town Hall
When: Friday, November 6
- TimeOut