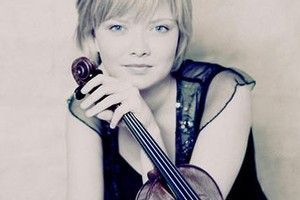 Alina Ibragimova's impressive catalogue of CDs, mostly on the Hyperion label, makes it difficult to believe the Russian violinist is only 26. Next Thursday, the sceptical can have doubts allayed when she plays Shostakovich's First Concerto with Auckland Philharmonia Orchestra.
At the moment she is in Lisbon, half a globe and a phone call away, guesting with the Gulbenkian Orchestra. She has been playing the first of two concertos by the Russian Nikolai Roslavets (1881-1944), which she recorded three years ago. This one is her favourite.
"It was written in 1925, when Roslavets was developing this system that was close to Schoenberg's 12-tone system, but not quite the same," she says.
"He only wrote a few pieces like it but, in Russia back then, that style wasn't appreciated. Roslavets was declared an enemy of the people, moved away and eventually returned but writing much simpler music. It would have been so wonderful if he could have developed that earlier style."
Ibragimova herself left Russia at the age of 8 when her father joined the double-basses of the London Symphony Orchestra. Rinat Ibragimov leads the section now, but you can also see him, on YouTube, playing alongside his 6-year-old daughter at the Bolshoi Theatre.
"Both of my parents are musicians and there's nothing quite like being able to ask them a musical question and share things with them."
When Ibragimova talks of Yehudi Menuhin and her teenage years at the Menuhin school, he almost sounds like a second father. She pauses as she remembers playing Bach's Double Concerto with Nicola Benedetti at Menuhin's funeral in 1999.
"He was such a generous human being," she says. "And it carried across into everything he did and all the music he played."
Among the great violinists, David Oistrakh comes out on top. "What he does is so simple and yet so emotional," she says. "It's a very honest kind of playing."
On Thursday, she plays the same Shostakovich Concerto that Oistrakh premiered in 1955. For him, the piece's opening Nocturne imparted a mood of tragedy but with a certain sense of purification.
"I think music has great healing properties," is Ibragimova's response. "It's our way of expressing things, healing with sound. It is good to find music that can connect you to this process."
She smiles when I ask how it is that Russian composers seem to have such a talent for writing music of such sadness and melancholy. "I don't know," she laughs, "but it definitely works."
As for Shostakovich himself, Ibragimova has been reading the composer's letters and, for her, he comes across as a man of extraordinary kindness.
"He was an incredible human being for a start. Everything that was going on around him touched him, and hurt him a lot. And you can hear that in the music, which is why it is so profound and emotional."
The conversation lightens when it turns to her favourite accompanist, French pianist Cedric Tiberghien, who also plays with the APO later this month. The pair's Beethoven concerts have been creating a stir on the European music circuit and are available on the Wigmore Hall label.
"The first time we did them at the Britten Theatre at Aldeburgh he decided we were going to rehearse them all for a week non-stop and then play them, the complete sonatas, over one weekend," says Ibragimova. "It was quite scary but, since then, one by one, we've got deeper into them."
You can search out these, as well as the pair's superb new CD of French music by Ravel and Lekeu, but don't miss the woman herself this Thursday - or for that matter her pianist in two weeks' time, playing Brahms' Second Concerto in the APO's Grand Finale concert.
Performance
What: Auckland Philharmonia Orchestra
Where and when: Auckland Town Hall, Thursday, 8pm
On disc: Ravel: Complete Music for Violin and Piano (Hyperion, through Ode Records)