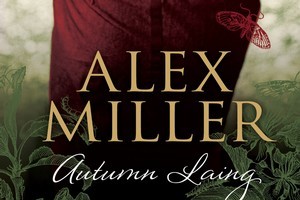 As protagonists go, Autumn Laing and I did not get off to a great start.
This tenth novel from Australian author Alex Miller begins when Autumn is 85 years old "and skeleton-gaunt". She has outlived the circle of artists she cultivated in the 1930s, so she is shocked to see Edith Black walking down the street. The sighting prompts her to think back to the affair she had more than half a century earlier with Edith's artist husband, Pat Donlon.
In the opening chapter Autumn is unable to rest, wondering whether she may "yet recompense [Edith] with the truth." And so she resolves to write down that truth, "the torture that accompanies grand visions... and the beauty and the awful price of illicit love".
I didn't like Autumn much after the bitter opening monologue, but I found myself sufficiently intrigued by this story of an all-consuming affair between artist and mentor to choose it as my November feature read.
My interest was heightened because I'd read that both Autumn's character and her fictional affair with artist Pat Donlon were inspired at least in part by well-known art patron Sunday Reed, and her relationship with the renowned artist Sidney Nolan.
It just so happened that when I started reading the book, I was on a plane to Melbourne for the weekend, so I immediately added a visit to the Heide Museum of Modern Art to our itinerary. "The Heide" as it is popularly known, is housed in a modernist building on the former dairy farm once owned by Sunday and her husband John Reed in east Melbourne.
The Reeds were great supporters of the modernist art emerging in Melbourne in the 1930s. Throughout the 1930s, 1940s and 1950s, the Reeds hosted and supported a group of artists who became known as the "Heide Circle" and included such acclaimed artists as Albert Tucker, Joy Hester, Charles Blackman, and of course, Sid Nolan. Nolan painted 26 of his 27 famous Ned Kelly works in the dining room of the original farmhouse. He also had a long affair with Sunday Reed, who was his supporter, his mentor, and is also believed to have been his collaborator.
But that's enough about the Reeds. Autumn Laing is a fictional story and while there are obvious parallels with the story of Sunday and Sid, Miller is clear that readers should not expect any insights into their characters from this book.
He has instead taken inspiration from the affair between artist and mentor, and the gathering of artists at a pivotal moment in the development of an Australian art movement to write a story of how great passion can fuel great art, and the lingering price of betrayal. The ABC called it "a vivid and distinctive meditation on life, love and art", while according to the Sydney Morning Herald, "Few writers have Miller's ability to create tension of this depth out of old timbers such as guilt, jealousy, selfishness, betrayal, passion and vision. Autumn Laing is more than just beautifully crafted. It is inhabited by characters whose reality challenges our own."
If you'd care to read along, click here to enter our competition to win a copy of Autumn Laing and Bronwyn's November feature read, Rangatira by Paula Morris, which she will introduce on Tuesday. To enter, tell us what book is top of your Christmas wish list. We have three pairs of books to give away and entries close November 15.